by Emily Kane on May 29, 2011
1265 Alpine Avenue




It was girls' night out and we decided to go to Radda, an Italian restaurant in north Boulder situated next to Ideal Market. I got excited when we were seated right in front of the kitchen – I absolutely love watching the food cook and having the opportunity to ask the chef questions! We began with the mussels. Unlike the traditional white wine and butter sauce the mussels arrived in a garlic infused tomato sauce. It was fresh and light, a nice take on a classic appetizer!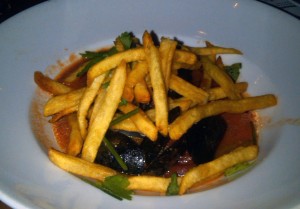 For our main courses we ordered the salsicce (sausage) pizza, margherita pizza, pesto gnocchi, and the lobster ravioli. The pizzas were both great. The margherita was full of flavor and not too heavy on the sauce. The salsicce was also packed with flavor. Between the homemade sausage and the onion, it was far from boring. I did have a little trouble with the arugula on the salsicce, I never really figured out how to eat it gracefully. Nonetheless, the flavors were incredible and the cream sauce, spiced with what I believed was paprika, made it more than just a sausage pizza.
Although on the heavier side, the lobster ravioli was also really good. Generous pieces of lobster meat were minced with vegetables and served in a homemade lasagna shell and rich cream sauce.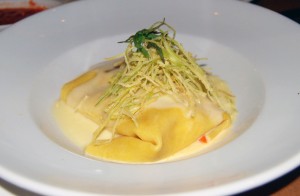 The pesto gnocchi was also really yummy. The cherry tomatoes that were mixed into the dish added excitement – they were like tiny flavor bombs when you happened to bite into one!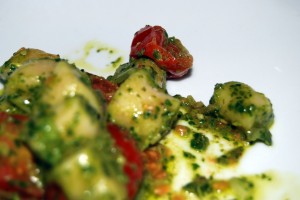 For desert we ordered the tiramisu. But when my friend found out how they were made asked, "who would voluntarily eat anything that contained lady fingers?!" Although I hadn't thought about it before, she did have a point, and it was a little off-putting. However, once you ignored the names of the ingredients it really was delicious – definitely one of the better tiramisus I've had at a restaurant!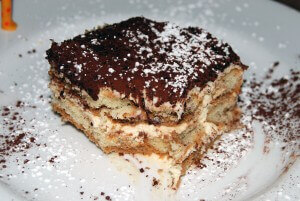 The open atmosphere and friendly wait staff at Radda set a great mood for the night and we left happy and satisfied! I would highly suggest Radda the next time you're in the mood for Italian and looking for a venue a little less jaded than Pearl St.