by Jessica on October 16, 2011
1115 Pearl St./Menu





Welcome, Riff's, Boulder's newest and trendiest small-plate bistro on Pearl Street. In my opinion, Pearl was in need of more non-chain restaurants such as Riff's- good food, outdoor seating, and open for happy hour and dinner.
The food aside, all aspects of the restaurant were top notch. Swanky atmosphere, great service, open kitchen (one of my all-time favorites) and a creative food and drink menu.
After one look at the drink list, I was utterly confused. No Bud Light, Coors, or even Blue Moon. A college kid's nightmare? After soliciting the help from our waitress, I quenched my thirst with a Unibroue Éphémère, a fruity but light beer from Quebec. I would never have picked this beer by myself, but it was a great and unique suggestion, one that I will likely never see on a menu again, so I'm more than glad that I tried it.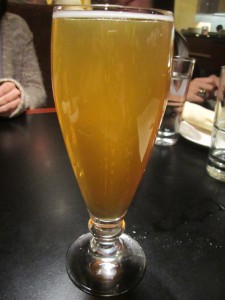 The menu at Riff's consists of small-plate portions, which enabled us to try a few different items to share, a favorite of mine. The winner out of our spread was the chicken satay. A spin on the traditional "chicken on a stick," the dish came with warm, flavorful and juicy skewers of chicken, served on cold soba noodles in a peanut sauce. The mix of flavors, temperature and consistency was delicious and I could have easily eaten more than just a few bites.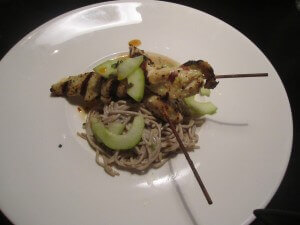 A general rule of thumb of mine while at a new restaurant is to always order the specials of the evening. Lucky for me, Riff's was featuring an Alaskan halibut on Thursday, served pan-seared with beets, on a bed of lentils. If your mouth isn't watering, it should be. Think of a warm, gooey cookie with the bite of a chocolate chip to mix it up. The lentils provided a great change of consistency from the flaky fish, and the flavors were dynamite.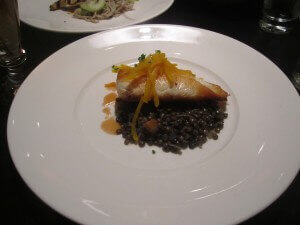 Next, we selected the avocado mash, served with a chipotle black bean relish and corn tortilla spoons. Anything containing avocado always jumps out at my on a menu, so this selection was not debatable. Yet once I dug in, the avocado was less fresh and flavorful than I was expecting, and beans were a little dry. Though the presentation was beautiful and innovative and it was great for sharing, it wasn't the best that Riff's had to offer.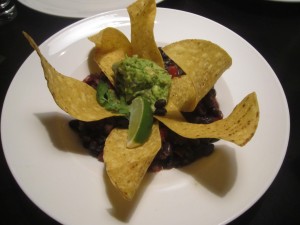 Lastly, we selected the seared organic greens, served with garlic, chili and lemon, trying to be a little healthy. Being in Boulder with so many farm-to-table options from local farms, I love eating organic whenever possible. To my surprise (I consented to ordering the greens by my friend's request), the greens were flavorful, seared to perfection and the perfect accompaniment to our other choices.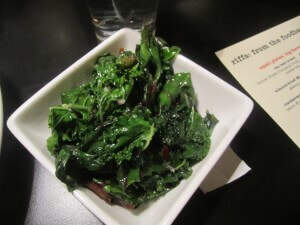 Though it came with mixed reviews, I was very impressed by what Riff's had to offer. My bet would be that it steps up its game each day, and by winter it will be one of Boulder's finest eateries. But for now, it pleased me just fine.