by Zoey Ripple on May 20, 2011
1682 30th Street

I first discovered Ripple when my friend posted its link on my Facebook.
"We have to go check out that place that has your name!" she said.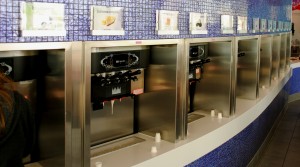 So we did. As we were discovering Ripple, so was the rest of Boulder. Tucked in between a laundromat and nail salon, you would never think that the frozen restaurant shop would get business. WRONG! Ripple, since their opening in mid January, has lines almost out the door. I have even seen dedicated Ripplers taking the campus service, Night Ride, to get a fix of the delicious Fro-Yo. Ripple has sixteen flavors that change anywhere from once to four times per week. They have every topping you could ever want: fruit toppings, granola toppings, candy toppings, and even a section of homemade goodies to mix with your yogurt. The homemade toppings include gluten free brownies, chocolate chip cookie chunks, mixed berry preserves, and tasty chocolate covered cake balls.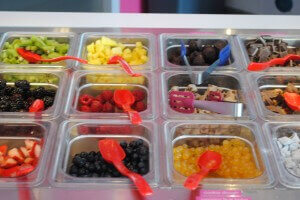 As my friends and I visit Ripple on an average of four times per week, we've had to validate our sweet treats. It's HEALTHY we tell each other! Ripple frozen yogurt is an all-natural, probiotic dessert with five active cultures, L. bulgaricus, S. thermophilis, L. acidophilus, B. bifidus, and L. casei. All flavors contain no artificial flavors, colors, or, sweeteners, and there are no synthetic growth hormones in the milk. And best of all it is LOW in calories and RICH in protein and calcium. That's enough of an excuse for us to visit the place multiple times per week!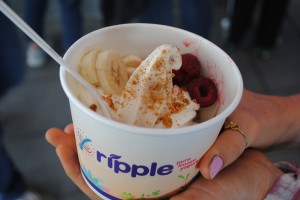 Just like us Ripple loves Boulder too! In addition to stocking local ingredients, at Ripple's Grand Opening (on the first weekend of April), they donated 20% of all their proceeds to the Boulder Homeless Shelter. Ripple provides a lively and fun atmosphere with children, families, and students eagerly pumping their cups high with yogurt and piling on toppings. The price of 44 cents per ounce gets pricey but the ability to sample anything you want more than makes up for the cost. I vote Ripple one of Boulder's BEST additions….although maybe I'm just biased because I love the name?