by Jessica on November 27, 2011
1800 Boradway St. #150/Menu





Note to self: do not embarrass yourself or your date by choosing Rueben's as your date night location. Picture this: a couple beers or glasses of wine (happy hour!), a sloppy sandwich oozing sauce and toppings out of all sides, and a big plate of fries. And you wonder why he didn't call you for a second date…
At first glance, Reuben's menu may seem a little intimidating. Just the burger page alone exhibits nearly twenty creative, mouth-watering creations, each of which may be served with a beef burger, grilled chicken breast, turkey burger, buffalo burger, or homemade veggie burger. And if none of their pre-conceived options appeal to you, take the creative route and let your imagination run wild with The Alp d'Huez- "if we have it, we'll put it on for you!"
This is the path that I chose to take, topping a veggie burger with tomato, sauteed onions and mushrooms, sprouts, avocado spread and swiss cheese, served on a pretzel roll with a side caesar (or fries). Reuben's veggie burger was a refreshing alternative to the frozen patties that fill my freezer; it was clearly homemade and made from hearty ingredients. In addition, the pretzel bun was far beyond the bland, packaged and mass-produced rolls surfing the plates of a typical burger joint. It was fresh, delicious and packed with flavor.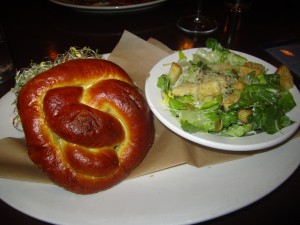 My server was even kind enough to bring out a trio of sauces for me to sample: avocado ranch, roasted garlic aioli and chipotle aioli (caution: hot!). In this case, the sauce has the ability to make or break the sandwich. In my case, it made it. I would highly recommend requesting a duo or trio of sauces to sample, and maybe even mixing the two. For me, I favored the avocado ranch and chipotle aioli, yet in moderation because it definitely packed some unexpected heat.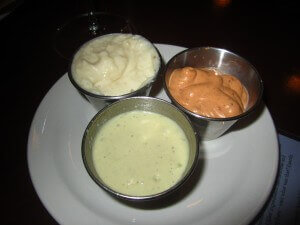 Despite the slightly pricey burgers ($9-$14) and slow staff, Reuben's is a great option for a casual and quick meal close to the Hill. There is something so luxurious in turning a standard American staple food into a foodie experience, and Reuben's masters this privilege.