by Emily Kane on July 1, 2011
1047 Pearl Street





I have an unhealthy addiction to salt, that lovely chemical compound, so when I discovered Boulder was home to a restaurant by that very name I simply had to check it out. On the corner of 11th and Pearl, SALT is an intimate and upscale bistro with a unique menu. SALT's philosophy is that food should take the shortest route from farm to table and they practice what they preach serving only locally grown veggies and meat.
Before each meal the restaurant showcases two different salts. On this occasion, there was hickory smoked salt (right) and a Brazilian sea salt (left). I tested the hickory-smoked salt with a little bread and butter, which created an incredible juxtaposition of flavors. The savory flavor of the salt contrasted the sweet bread perfectly.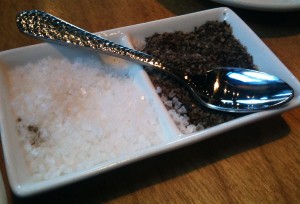 We ordered the Braised Lasater Ranch Oxtail Ravioli, listed under the small plate section, to start. The tender ravioli was stuffed with shredded meat, served over a bed of sautéed spinach, and topped with a creamy red-wine sauce. The rich sauce was further enhanced by the creamy pieces of goat cheese. Although small, it was a truly delicious, and rich, way to begin the meal.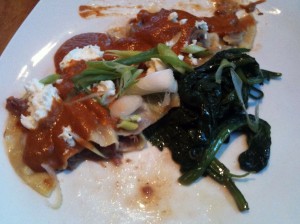 For my main entrée I ordered the rosemary rotisserie half chicken. The chicken arrived in a deep dish, cut into pieces and set atop chunky mashed potatoes, mushroom caps, and thick asparagus. A fancier version of a country feast, this entrée was rich in flavor and did not disappoint. I thoroughly enjoyed the addition of cinnamon to the savory flavors of the meat and potatoes. While chicken has the tendency to be overcooked, it was perfectly prepared by SALT.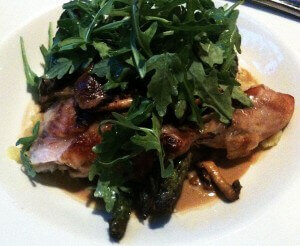 The lively ambience and fantastic service was the cherry on top of a lovely dining experience. Although expensive, the food, and experience, is well worth the price tag. I highly suggest SALT for anyone looking for fresh, locally grown food in a fun bistro atmosphere.