by dan on February 19, 2011





I was kind of freaking out on Valentines Day at 4pm with no dinner reservations.  I had promised this girl a special dinner and I'm a man of my word so I was going to live up to it.  First, I called brasserie ten ten to try and get last minute reservations and they were booked for the night.  Then, I called the kitchen and they were also booked for the night.  I stumbled across Salt on hungrybuffs, called them, and luckily they had one reservation left for 5:30pm.  Considering that she would be able to figure out that I made very last minute plans, 5:30 is not the ideal time for a valentine's dinner, but at this point beggars can't be choosers.
When we arrived we were seated at the bar that overlooks the chefs in the kitchen.  This was definitely the best section in the restaurant and the host made that clear when walking us to our seats.  Then we were handed our menus by our over-enthusiastic waiter along with a red alcoholic shot that tasted like a sophisticated version of a red headed slut (the beverage).  To my surprise it was a four-course set menu considering the holiday and I'll admit that I was blind-sided by this and was expecting to spend half of what I spent.
I quickly got over the price once I saw the variety on the menu: soup, oysters, lobster, duck, chocolates…what more can you really ask for?  A vodka tonic perhaps…we took turns choosing dishes from each course and decided to share each, in true Valentines Day fashion.  To start, we each chose the potato soup with chives, truffle oil.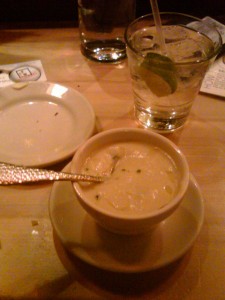 I'm usually not a fan of soup but the other options seemed too mysterious.  This was some of the best soup I've ever had, and a perfect start to what was going to be a perfect meal.  For the second course we got oven-baked oysters and butter poached main lobster. The oysters were filled with bacon, red pepper, spinach, breadcrumbs and pernod.  They were also gigantic compared to your average oyster.  The oysters were so amazing that we fought over the final oyster…she won.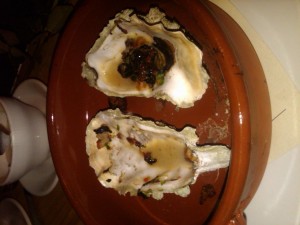 The Maine lobster came with blood orange, avocado, fennel, and crème fraiche.  It was kind of like a lobster salad and I thoroughly enjoyed it (not quite as much as the oysters and soup though).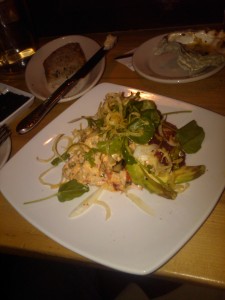 For the third course we ordered duck and Hawaiian Mahi.  I hadn't eaten duck in over 5 years and I love duck so I was naturally very excited.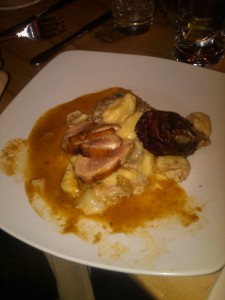 The duck was crispy with roasted onions, potato gnocchi, cream, parmigiano, grilled radicchio and sherry gastrique.  All of these ingredients might sound intimidating but they came on the side and made for a perfect complimentary sauce.  The duck was cooked medium rare to perfection.  The Mahi was also top notch.  I'm not the biggest fan of fish other than salmon but I was devouring the Mahi.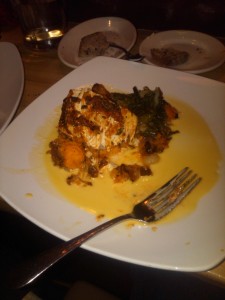 You normally won't find me ordering dessert considering that I lack a sweet tooth, but as I mentioned this was a set menu occasion with desert involved.  I figured my date would be pleased that she would get the dessert all to herself because: since when do girls not love dessert?  As it turns out that didn't happen, instead I had to refrain myself from eating all of it. We ordered chocolates, as it was one of the options on the set menu; the chocolates were assorted house made chocolate truffles done in six styles and each chocolate had a unique flavor to it.  I regretfully forgot to take pictures of the delicious fourth course and I'm blaming that on the liquor.
Overall I'd give this experience 5 stars.  The food and service were both immaculate.  I enjoyed watching the chefs cook the food.  The wait staff was very knowledgeable in educating us on the menu.  It was a little pricey, but the nicer restaurants in Boulder usually are.  I'll be back for another special occasion.