by Jessica on October 16, 2011
1107 13th Street





I am officially no longer a Salvaggio's virgin, and I am a little depressed that I have lived so long without their breakfast sandwiches as part of my morning ritual.
For some reason, the fact that the whole kitchen is right in front of you is especially appealing to me. You can watch them assemble your sandwich, see the bread rising in the oven, and request what toppings go into the masterpiece.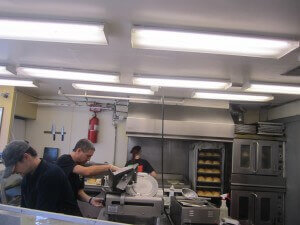 On this lazy Friday morning, I ordered an egg and cheese sandwich, topped with sauteed red bell peppers and tomato. If this isn't a hangover cure, I don't know what is. In addition to the hearty, fresh and cooked-to-perfection insides, the bread was fluffy and made for one huge breakfast sammie.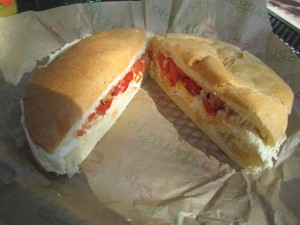 This convenient spot is my new favorite place for a quick breakfast. The only thing that could possibly make it better was if they delivered, or perhaps if they offered avocado. Nevertheless, my desire for Salvaggio's will continue to be an incentive to get me out of bed on Saturdays and into the sun. Next stop, Deli Zone, to compare The Hill's finest breakfast.