by Jessica on December 4, 2011
1600 28th St./Menu



(

)
Just the name alone sounds enchanting: San Francisco Soup Company. A company specializing in soup, all the way from San Francisco. I'm intrigued.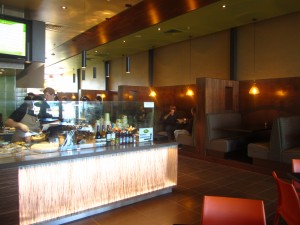 We visited the SF Soup Company for lunch on opening day. Though perhaps the opening was not as grand as they were expecting, the customers milling around, sampling from each station, seemed extremely pleased. To draw customers in (or perhaps to deter undecided patrons from similar neighbor Modmarket), employees were offering samples of several soups outside. And if the one that caught your attention wasn't being offered outside, head in and request a taste from the happy employees ready to help. Customer service: A+. The owner even came over to check on us!
As far as the menu goes, they specialize in soups, salads, sandwiches and wraps, with substitutions, combinations and alterations being offered for anything you'd like. Though I'd assume the spot is renown for their soup, especially in a San Francisco sourdough bread bowl, I couldn't bring myself to do it on this warm, sunny day. Instead, I opted for the Greek wrap.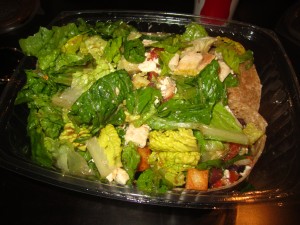 Yes, it looks more like a salad than a wrap. The menu advertised that each salad and wrap could be ordered as a half size. But when I requested a half Greek wrap, she said it wasn't possible. Instead, she only succeeded in stuffing half the greens into the wrap, and piled the other half on top of the wrap. So they could use a little practice…
Aside from this minor setback, my wrap was quite tasty. It came with romaine, roasted red peppers, marinated artichokes, kalamata olives, cucumbers, tomatoes, feta cheese, croutons and balsamic vinaigrette (yes, a little bizarre). I loved the amount of options the restaurants gave to each diner to foster a more individualized experience. Maybe it was superior service for opening day, but they were absolutely aiming to please.
Next time, soup is definitely necessary. As I munched on my wrap, I kept finding myself staring at the heaping pile of sourdough bread bowls on display in the soup section, a little eye candy to tempt me for next time!