by Zoey Ripple on May 29, 2011
2850 Iris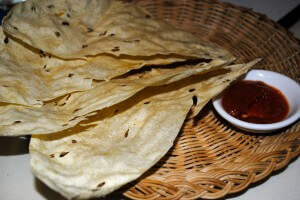 Visiting Sherpa's Kitchen (not to be confused with Sherpa's Ascent on Walnut) was an adventure. It is located in a small obscure shopping center, next to 24 Hour Fitness, on Iris. Upon entering, we became slightly nervous; it was quiet, and there was only one other couple dining. Bravely, we sat down, and were immediately served Poppadom. Poppadom is a crispy light Indian cracker made of ground chickpeas, and flavored with cumin and other spices. The cracker was delicious, but the dipping sauce reminded us oddly of Pace salsa…no thanks.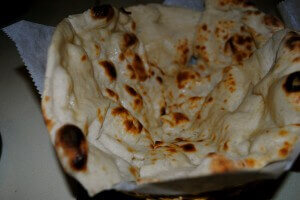 We began by ordering Naan and Chicken Kulcha. The plain Naan came out hot, buttery, and chewy, and was speedily enjoyed by us all. The Chicken Kulcha, which is Naan stuffed with chicken, was a disappointment, as not one of us could taste the chicken in it.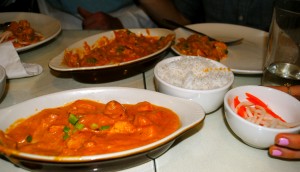 The food came quickly: Chicken Vindaloo, Vegetarian Curry, and Chicken Tikki Masala. Each one of us was served with a side of rice, as well as pickled radish and carrots to accompany our meal. The Chicken Vindaloo was a creamy curry with a hint of tomatoes served over potatoes and tender chunks of chicken. The vegetarian curry included peas, radishes, potatoes, and carrots in a delicious curry sauce.  The flavor of the curries were good, rich with the melded notes of traditional Indian spices. The Chicken Tikki Masala seemed to have the same, or very similar curry sauce as the Vegetarian Curry, which limited the variety of our meal. We ordered all of our dishes at medium spice, and they all came with a definite bite, however no tears accompanied our meal.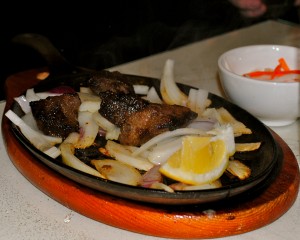 Sherpa's Kitchen offers Yak , and since none of us had ever tried Yak, or even seen Yak on a menu, we HAD to order the Yak Sizzler. The dish came out sizzling (hence the name) in a black skillet. There were five pieces of Yak meat on a bed of sautéed onions. The Yak was slightly overcooked for my taste, but we all really enjoyed the rich gamy flavor of the meat. Who knew Yak could be so good!
We all thoroughly enjoyed the experience of Sherpa's Kitchen. The service was friendly, but not very attentive. The meal was extremely inexpensive, and we all left full and satisfied. If you're up for the adventure, visit Sherpa's Kitchen and if you're brave enough, maybe even try the Yak!