by Jessica on September 18, 2011
1926 14th St



Only one thing is sure to pull me, and I would assume any girl, out of a minor depression: ice cream/frozen yogurt. So when a friend intruded on my solo movie night and proposed walking to Pearl for some fro yo, it was simply an offer I couldn't refuse.
About three shops away from Pearl St. sits this brightly-lit, small yogurt shop. Though the silence in the store is almost alarming considering its Pearl St location and decor may be rather bland, the simplicity is refreshing. Smooch offers about four flavors, with one changing daily or weekly, and about 15 toppings, including the standards you would find at any yogurt shop.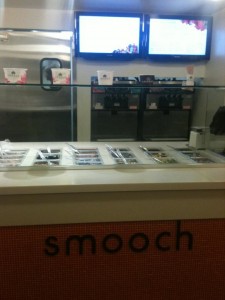 Per usual, I ordered up their original tart yogurt, topped with mochi, chocolate chips, kiwi and strawberry. Though it is a complete rip-off that they charge 95 cents for a topping, their offer of unlimited toppings for $1.45 is a little more reasonable. Yet after watching them measure my yogurt on a scale and carefully only tip half the spoon of chocolate chips into my cup, I realized this bargain for "unlimited toppings" is not really as great as it seems. Though the tart flavored yogurt was some of the best I've tried, the mochi was hard and stale and the toppings in general were not enough.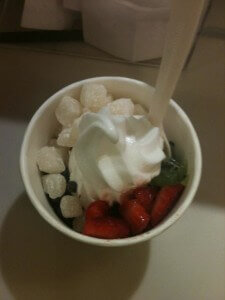 Smooch, previously Ce Fiore, was one of the first frozen yogurt shops to open in this town, if not the first. Following the trend of tart yogurt shops on the West Coast, like Pinkberry, this overpriced trendy hangout appealed to the masses. Five bucks for a cup of swirled goodness was nothing when it was hip and unique, right?
That might have been the case when Ce Fiore opened years ago, but now I worry for its existence when competing with massively popular do-it-yourself establishments like Spooners and Ripple. More variety, fresher toppings, and better prices bump these newly-opened spots up Boulder's fro yo hierarchy, leaving Ce Fiore at the bottom.