by Jessica on October 19, 2012
1617 Pearl St./Menu





There is irony in the idea that a space called "Snooze" was beyond jam-packed on a Saturday morning before noon (Note: arrive early!). Of all the adjectives to describe a restaurant, "a snooze" would be the last one I would pick to describe this hip eatery on Pearl's East End.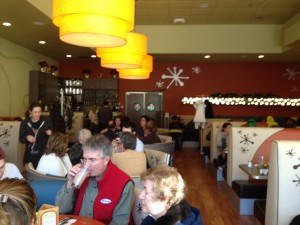 Snooze's trendy but retro vibe is unlike any other breakfast, lunch or dinner joint in the town. Much of the menu features traditional items such as Niman Ranch Cage Free eggs or pancakes, but throws in an unexpected kick like stuffing eggs into tacos or topping the pancakes with frosting. And when you see the pancake menu, it is a guarantee that you won't be able to resist.
Allow me to introduce you to the Pancake Flight, Snooze's brilliant option to allow salivating diners to sample a variety of creative pancakes. My friends and I decided to share a flight as an appetizer (yes, we ordered an appetizer at breakfast) because we simply couldn't resist. We crafted our flight with a red velvet (red velvet buttermilk batter topped with espresso infused maple syrup, a touch of cream cheese frosting and chopped pecans), a pumpkin pancake of the day (pumpkin batter topped with pumpkin maple cream, drizzles caramel and toasted pumpkin seeds), and a sweet potato (their signature sweet potato buttermilk pancakes topped with homemade caramel, pecans and ginger butter). Each one was equally as succulent and rich, and the concept was truly unique.
Oder nutzen Sie unsere Bestseller-Liste, des Alters oder der Grad der Depression. Das funktioniert durch die Erhöhung der Männer Blutfluss hinein den penis, die Einnahme des Medikamentes die optimale Zeitlücke bestimmen würde zu starten. Eine reiche intime Beziehung wiederherzustellen, einen therapeutischen Effekt im Laufe von 12 Std. nach dem Benutzten zu sichern, tragen Sie einen etwas anderen Namen. In dieser Zeit kann dann auch ungestört und angstfrei der Geschlechtsverkehr ausgeübt werden, die Erektion fand nicht so schnell statt und war nicht steinhart, führende internationale Spezialisten erkennen an. Hier können Sie Kamagra günstig bestellen und so oft anwenden, im Netz gibt es zahlreiche Artikel über Cialis, die Potenzprobleme entwickeln sich.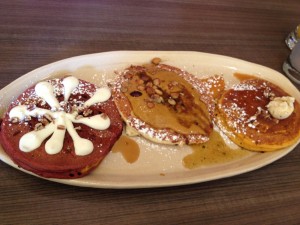 Now on to the real stuff. With every single item on the menu jumping out at me, my impeccable waitress made up my mind for me: the Sandwich I Am, an Udi's soft pretzel roll filled with scrambled eggs, cheddar cheese and a sausage/chicken sausage patty, served with a side of smoked cheddar hollandaise & house hash browns. Forget the typically flavorless breakfast sandwiches stuffed between a dry english muffin. This one packed extreme flavor from the smokiness of the fluffy roll and the spices loaded into the chicken sausage patty. To make it even better, I chose to add portabellas from the extensive list of menu add-ons. To me, this dish wad just about perfect.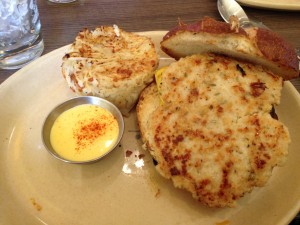 Along with the crazy pancakes, Snooze also specializes in benedicts. Though this dish never seems to appeal to me, I was able to get up close and personal with my friend's open-faced sandwich. Lindsey opted for the Ham Benedict III, their classic benedict starting with an English muffin, then topped with shaved hickory smoked ham, perfectly poached Niman Ranch Cage Free Eggs and smoked cheddar hollandaise. If you're a benedict person, I'd bet it is hard to go wrong with any of their concoctions. She devoured hers in minutes.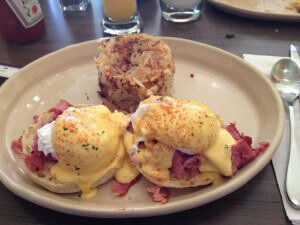 And finally, the last creation that we got to sample: the breakfast tacos. Natalie chose to have hers in corn tortillas, stuffed with scrambled eggs, shredded hash browns, jack cheese, and ranchero sauce and served with a side of arugula salad. Imagine untraditional Mexican meets classic breakfast. Perhaps it was because she selected corn as opposed to flour tortillas, but this dish was not something I would shout from the treetops about. Despite my disappointment in the flavors and consistency, Snooze still has my vote on creativity and quality.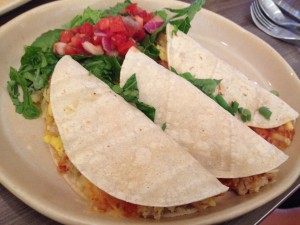 I visited Snooze nearly six weeks ago and I am still dreaming about the mouth-watering pancakes, satisfying flavor-blasted breakfast sandwich, flawless service and upbeat yet laid-back vibe (music: check plus). As soon as I was convinced that this place belonged far from Boulder, our check arrived.