by Jessica on September 17, 2011
1750 13th St





My feelings on ethnic food go two ways: the weirder, the better, and therefore I proceed without reserves; or it is simply too funky to fathom, so I stay clear, as is often the case with Indian food. Yet the smells from this Indian-inspired tent at the Farmer's Market caused me to shift my views on Indian food from #2 to #1.
On this rainy Wednesday, many of the vendors decided to stay dry, so the options for made-to-order food was limited. That being said, despite the few other tents around, all the customers were crowded around Taaza Gourmet.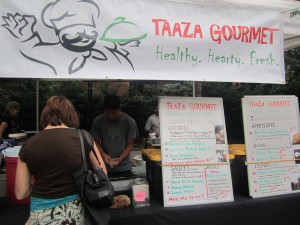 I quickly decided on the chicken naan sandwich. My decision was made easy due to my dis-like for pork and desire for something more satisfying than veggies; the menu was short. After waiting several minutes, my name was called, and it was well worth the wait.
The fresh, warm naan bread was stuffed with perfectly-marinated, juicy chicken, onions, tomatoes, and topped with a blanket of their homemade yogurt sauce. I am a big believer that the bread alone can make the sandwich. Not only was this fluffy naan worthy of this acknowledgement, but every other ingredient in the sandwich was also perfectly prepared and visibly fresh. I was almost speechless in what to type because it is one of those things that speaks for itself. Try it, you'll understand.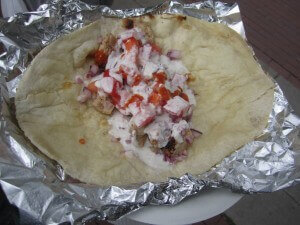 Though I have vowed to sample something from each food stand at the Farmer's Market, I cannot wait to re-visit Taaza. It is the perfectly filling, satisfying and healthy meal. I can literally taste it now.