by Jessica on October 16, 2011
1035 Pearl Street/Menu




Any place with the word "tequila" in the name is enough to lure me in. Throw in a decent happy hour, and I'm in love.
Tahona's outdoor seating area and window-front high tops are popping every single time I stroll by, any day of the week. So you could imagine on a sunny, Friday afternoon, the place was slammed. Add in their killer indoor bar and I'd call this one of the hippest, happiest happy hours in town.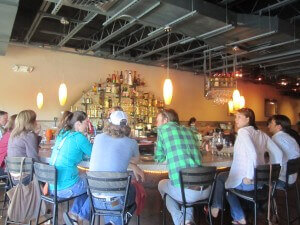 First off, a margarita, as if I would ever dare to order anything else. Tahona's menu featured a wide variety of margaritas and specialty tequilas. Feeling a little fancy, I sipped on the house silver coin style marg, rocks no salt. As opposed to the standard house marg, the coin marg was made with a more bitter mix, leading to a stronger cocktail. Perfection.
To pair with the beverage, we opted for a couple cheesy, satisfying snacks. My personal favorite was the chicken quesadilla, stuffed with shredded chicken, Mexican cheeses, house cured bacon, tomatoes, guajillo chile sauce and an ridiculously good sweet & spicy chipotle sauce. Compared to often greasy, overly cheesy quesadillas, this was packed with flavor and fresh ingredients. A little extra sauce on the side, and this would have been purely flawless.
Simply the presentation alone caught my queso-loving friends' eyes. Served in a metal pot, this queso came bubbling and almost oozing over the top. For dipping, the dish came with fresh flour chips and crunch celery and carrots. Though the queso looked like a sea of white, melted cheese, the immediate kick of jalapeno and completely unexpected. Hot, flavorful, rich and delicious.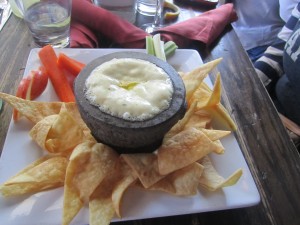 Lastly, we couldn't say no the the tamale of the day, which on Friday was smoked chicken and mushroom, spilling over the top with tomatoes, all tied up like a candy. We couldn't wait to untie the little strings and peel back the husk to dig into the good stuff. Inside, the combo of endless ingredients produced complex flavors- smoked chicken, mushroom, tomato, beans, jalapenos and the cornmeal-like base, characteristic of all tamales. Unfortunately, I will forever compare every tamale I try to the ones at the Farmer's Market, which may be unbeatable. Though Tahona's was good, it was not the best. But for $2.50, it was pretty damn good.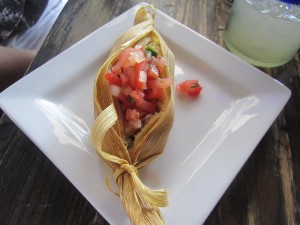 Tequila and happy hour-lovers, like myself, this is the spot for you. Go early to catch the tail end of the beaming Boulder rays, and sit outside or in the window to watch the shoppers and walkers pass by. I look forward to returning to sample the rest of the items on Tahona's dinner menu, and perhaps even some of their specialty infused tequilas.