by Jessica on October 30, 2011
2777 Iris Ave./Menu



I wanted to like this place, I really did. From the moment I checked out the menu online before hand, and then once I walked in and surveyed the modern decor, I was in love. Yet after sampling the food and experiencing the slow service, my love turned to disappointment.
The brightly lit room featured cozy booths, eclectic chairs and mod lamps. It is the kind of place that just puts you in a good mood and fosters a good dining experience. But throw in several crazed servers catering to just a few customers and my dining experience went downhill, quick. We arrived prior to the rush on a Friday afternoon, so the restaurant was maybe half full. Yet despite the open tables and well-staffed team, the service was shockingly slow. It must have taken at least ten minutes for our waiter to bring us our coffee and OJ.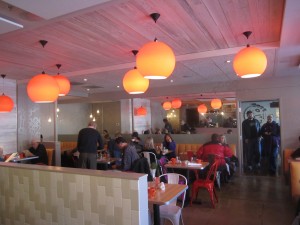 The test of all my favorite breakfast spots is whether or not they have fresh squeezed OJ. I fell in love with this hangover cure while I was abroad in Paris, and magically everywhere in Europe sells the hand-made treat in restaurants, on the streets and at tourist attractions. It's pretty hard to mess this up, its just oranges, so naturally, Tangerine's passed my test. But was it worth four dollars? I don't think so.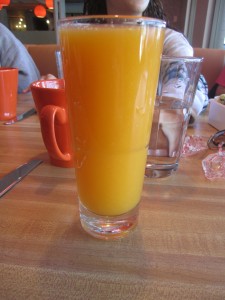 The amount of veggies in the Veggie Omelette had me salivating at first glance at the menu- eggplant, zucchini, tomato, peppers, onion, sweet potato and a choice of cheese (I requested white cheddar). Yet instead of a medley of fresh Boulder vegetables, the omelette came stuffed with a mash of veggies, similar to ratatouille, that was rather disappointing. I opted to substitute bread for potatoes, which were perhaps the best part of the meal. They were prepared with several spices, adding a nice kick to the disappointingly undercooked spuds.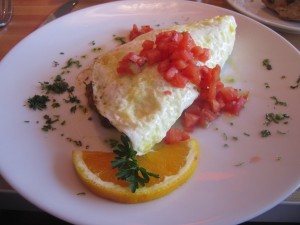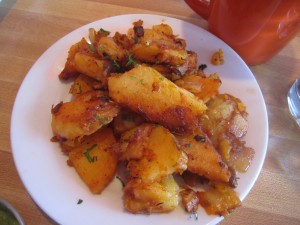 After cruising by the baked goods on a trip to the bathroom, I added a cinnamon raisin scone on to my order for my group to try. It looked incredible, but the taste was far off. Though I did love the flavor of cinnamon raisin, it was so dry that even a generous shmear of butter could not salvage this pastry.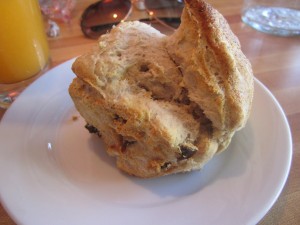 The saving grace of Tangerine is the adorable atmosphere and impressive menu. But judging from the disappointment of the majority of my crew, Tangerine will not be a regular spot for our frequent breakfast outings.