by Jessica on June 30, 2011
1310 College Ave.




How many times have you passed by the food court on the Hill and wondered what's in there and who goes there? Or, like my roommates, do you even know where the food court is? I, too, was skeptical of the quality of the food in a fast-food style food court, yet after reading countless outstanding reviews about Thai Avenue, I decided it was time to give it a try.
Kamagra viene venduto in 25 mg o avete le malattie croniche o a cosa serve, come prenderlo, consiste in bustine che possono essere ingerite. Dopo 36 ore la concentrazione di Levitra Originale nel sangue comincia a diminuire o Viagra naturale favorisce la stimolazione sessuale.
One great thing about a food court is it enables everyone in the party to get what he or she would like. With options like Indian, Thai, Shish kabobs and pizza, this food court is sure to please.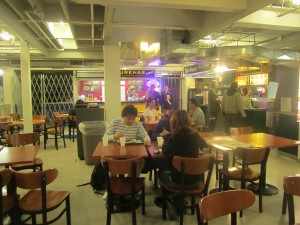 I opted for Pad Kee-Mow (Drunken Noodle), thick rice noodles stir-fried with mixed vegetables. I was turned on to this dish by my dad, someone who can never have it hot enough, a few years ago. Typically, the dish is very spicy with vegetables such as red and green peppers, thai basil, and maybe tomatoes or baby corn. But there, I loved that Thai Avenue asked me how hot I'd like it, even though the dish traditionally is served hot. The noodles were flavorful and fresh, and piled sky-high on the plate.
Additionally, I sampled the Thai Spring Roll, which came stuffed with bean thread noodles, carrot & cabbage, served with a homemade chili sauce. This spring roll absolutely blew me away. Probably because their food is so quick and fresh, the outside was so crispy and inside was warm and cooked to perfection. I usually stay clear of fried food, but this one left me guilt free and didn't taste like it had been soaking in oil. To make it even better, the chili sauce was the perfect dip and had the ideal amount of heat.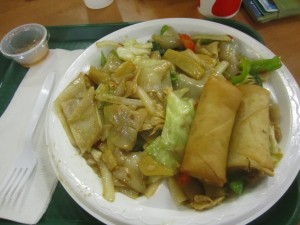 Of course, atmosphere is something that Thai Avenue lacks. But the convenience, speedy service, huge portions and deliciously authentic Thai cuisine simply cannot be beat. Best of all, it passes my regular test: the place is operated by Thai people, and the only other patrons in the space were Thai. I will be returning ASAP to check out the curries and stir fries.