by Jessica on September 4, 2011
1725 28th St.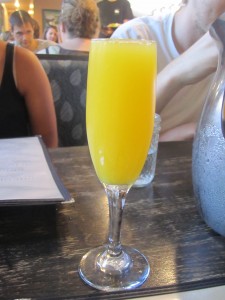 Tip #1: order a mimosa immediately upon being seated, especially if hungover. For a buck, even if you don't drink it, it is worth a sip. The Buff's mimosa was refreshing with the perfect soothing kick.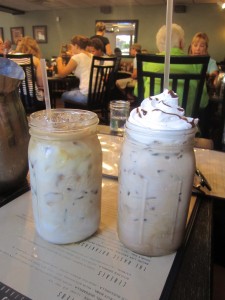 I'm not even a coffee drinker, but I couldn't help snapping a picture of my friends colossal drinks, an iced mocha and chai latte, both heaping with whipped cream and drizzled with chocolate sauce. Though each rang in at a whopping $4+, if you don't think twice about dropping the dough on a venti from Starbucks, this drink is well worth the splurge.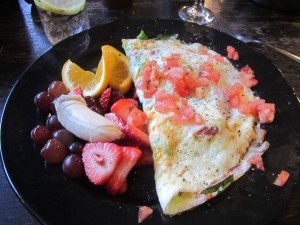 After debating my choice from the killer menu, I selected the veggie omelette, which came with broccoli, mushrooms, onions, tomatoes, spinach and amazing cheddar cheese, served with a side of fruit or potatoes. The omelette was absolutely stuffed with the veggies, which were seasoned and cooked to perfection. I have never been able to find out why restaurant eggs are undeniably better than homemade eggs, but nevertheless The Buff absolutely held true to this theory. I can't wait to try one of the skillets next time.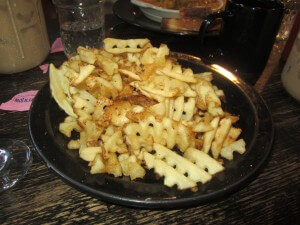 After experiencing food envy when seeing the table next to us enjoying their fries, we collectively agreed to order some fries with a side of ranch. I'm not sure if it was the perfectly-crisped waffle fries or the creamy, guilt-worthy ranch, but the combo was killer. Though I attempted to be healthy with my omelette by skipping the bread and opting for egg whites, the fries completely counteracted my attempt but the grease was much needed. Not to mention the thick and creamy ranch might have been the best I've ever had.
I am still in shock that I made it to my senior year without ever having been to The Buff. I am almost embarrassed. I am sure I will be dragging my hungover roommates there on a weekly basis, if just for the dollar mimosas alone. The Buff is positively the best breakfast in town and I have yet to meet someone who disagrees.