by Jessica on September 22, 2011
1035 Pearl Street





The Kitchen [Next Door], a spin-off of the literally next-door, more upscale location,  The Kitchen, was recently opened to appeal to a more casual crowd. Though perhaps still a little "fancy" for some, I fell in love at first bite.
Despite The Kitchen [Next Door]'s reasonable prices for fresh farm-t0-table cuisine, their happy hour every day from 3-6 solidifies the bargain. The menu features specialty items, such as a vegetarian antipasti plate, hummus (both served with freshly grilled bread) and sliders for $4, house wine for $3, and all snacks/sides for $1.50. Though the antipasti plate and hummus would have been more than enough to satisfy my three friends and I, we went ahead and ordered almost the entire menu.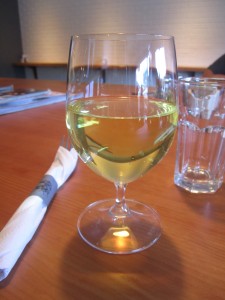 As our eyes grew bigger than our stomachs, my friend and I made a deal to split the grilled chicken sandwich, prepared with arugula and garlic aioli. Anything served with aioli is a no-brainer in my book, but the freshly-baked bread and smoky chicken took this sammie from a home run to a grand slam.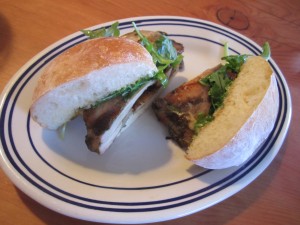 The vegetarian antipasti plate is one of those dishes that glides by you on a tray, and you quickly pull aside the server to ask what that dish was, and if he could please add one to your order. We followed that exact protocol. The dish was a sampling of roasted beets, cumin carrots, marinated beans, spiced chickpeas, topped with toasted bread. These flavorful spins on local, healthy veggies either are a total turn off or absolute deal maker. For me, I was sold.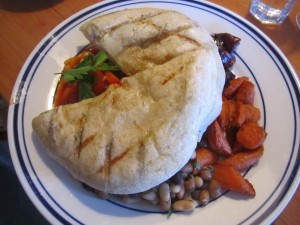 Upon recommendation from several friends, we also opted for the hummus, which the original Kitchen is famous for (or at least in my book). In addition to the generous portion of homemade hummus, The Kitchen [Next Door] served the dip alongside cooked, spiced chickpeas. The unique combo of the cold, smooth hummus with the hot, textured beans was out of this world.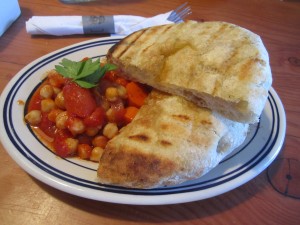 In addition to the items above, we also sampled a variety of "snacks," most of which were also included on the vegetarian antipasti plate (we didn't know this until everything arrived).
As our waitress came to scoop our empty plates and offer up the check…
"Wasn't there an ice cream sandwich on the menu?" My friend asked.
We all immediately snapped out of our food comas and readily agreed to satisfy our sweet tooth. When I hear "ice cream sandwich," I often picture a dry, wafer-like sandwich filled with freezer-burnt, flavorless ice. The treat that arrived at our table was the sandwich of my dreams- two freshly baked cookies filled with rich, homemade vanilla ice cream. After dividing the sandwich in four, it was gone in one second.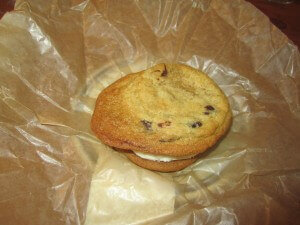 Though perhaps off the radar screens of many students, the quality and prices offered during The Kitchen [Next Door]'s happy hour should not deter any population. If you miss happy hour, the sandwiches are no more expensive than somewhere like The Sink, yet the quality is superior. To add to it all, the "Boulder-like" atmosphere, such as exposed brick interiors, makes the bar a cool-hangout anytime.