by Jessica on September 29, 2011
1002 Walnut St./Menu





For as many new and happening happy hour spots there are around town, I always end up coming back to this consistent favorite: The Med. Though it is true that by now I have sampled almost everything offered on the impressively large happy hour menu (embarrassing?), there is something about this place that keeps us coming back for more.
Every day from 3:30-6:30pm, The Med offers up a huge variety of happy hour tapas, ranging from $2-$5, in addition to various drink specials, but all that matters is the house sangria for $4, red or white.
I am a bid advocate for tapas, possibly because it reduces my chances for food envy. Smaller portions, more food, better options. For the same price and amount of food, you can try more variety. And, its great for sharing, as is common during happy hour, or at least with my crew. That being said, it is far too easy to go overboard.
Though my table (we were a group of about 20 for a birthday) ordered literally one of everything, I'll just highlight some of my favorites…
First and most importantly, the sangria, one of my all-time favorite drinks. I opted for the red. It was the perfect balance of sweet and strong, which is hard to achieve in a traditionally fruit-based drink. The one criticism I have is I would have liked more actual fruit soaking in the drink.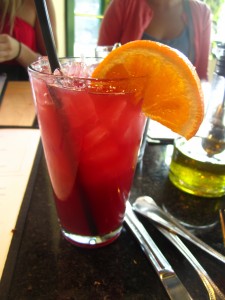 Next, the pizza. For five bucks, this is always part of our Med happy hour ritual. The crust is paper thin yet flavorful, cheese is rich in flavor, and shredded basil on top makes for a great presentation. Hint: at five bucks for a pie, we always order an extra to take home!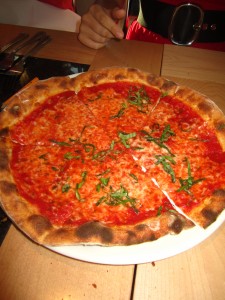 My absolute favorite thing on the menu is the "championes:" sauteed whole mushrooms in garlic. The mushrooms are juicy, flavorful, and doused in a garlic sauce. It is almost scary how consistent The Med is; every single time I dine there, the mushrooms always pleasantly surprise me, I always seem to forget how good they are. And, they are the perfect compliment to a typically carb-heavy meal.
From the fried options, my top pick is the "artichauts," or fried artichoke hearts, drizzled with an aioli. Sadly, this photo does it no justice. The artichokes are lightly fried, just enough to give it a crunch while still preserving the rich, creamy flavor of the vegetable. As my love for aioli prevails, I couldn't get enough.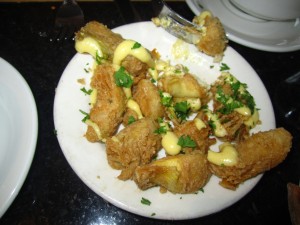 You can never go wrong with a caprese salad: who doesn't love tomatoes and mozzarella chese? Perhaps if I wasn't a regular at The Med, I would not have taken up table space for this widely-popular dish, nevertheless it is always a crowd pleaser.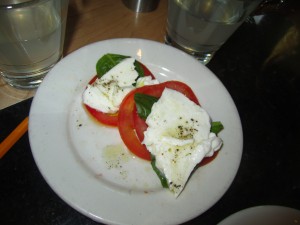 These are just a few of the items that crowded our happy hour table. If you can't make it for the early bird special, I have no reserves in saying that the normal dinner menu is just as good. Yet on a college budget, why not sample some of the best cuisine at a bargain price?