The one thing I always love about my family being in town is dining out at high end restaurants around Boulder, which translates into great food every night.  Its a good break from either cooking at home or settling for a cheap burger.  Needless to say, my family has been in town since Thursday and my stomach's never been so satisfied.  This weekend we went to the Med on Pearl street which is one of my favorite restaurants in Boulder.  The Med is the Queen of tapas and they are all reasonably priced.  Besides the tapas, they have a large menu consisting of an assortment of Italian and Mederteranian dishes.  We split three appetizers to start; fried calamari, margherita pizza, and empandilla which are turnovers with spimach and feta.  The appetizers were devoured by the fam in the matter of seconds.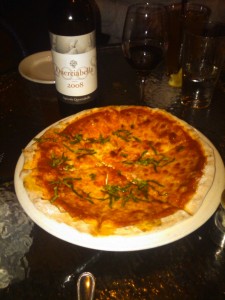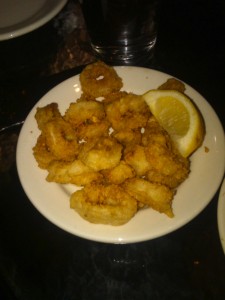 Then came our main courses.  I ordered the pasta bucaniera which is a seafood pasta dish with mussels, clams, shrimps, fresh fish and calamari.  It was delicious, but I am not going to lie, I was still hungry afterwards.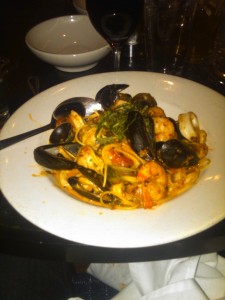 My only complaint is that the dishes aren't big enough. I guess that is why they call it tapas. I tend to that have that problem at most places though.  One of my brothers ordered the same dish and my other brother got the pollo parmigiana with spaghetti.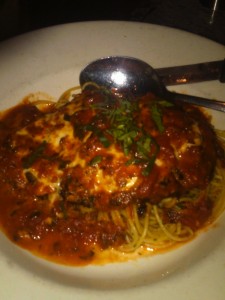 He's easy to please.  My dad went with the Lamb Shank.
Everyone loved their food.  We ordered dessert for my mom since she hadn't arrived in Boulder yet.  Dessert is also my favorite part of the meal.  We got two chocolate desserts and one rasberry tart.  It was arguably the best part of the meal.
I always have great experiences at The Med and this night was no different.  The staff is friendly and it has a casual atmosphere.  They also have outdoor seating which was a nice ending to a gorgeous eighty degree and sunny day.  I'll be back soon for some more tapas, and I recommend you trying out The Med as soon as you can!
The med menu can be found on www.hungrybuffs.com