by Jessica on August 26, 2011
1165 13th St.




Before my most recent visit to The Sink, I assumed that this establishment got by solely because of its prominent location on The Hill including outdoor seating, and celebrity appeal as the oldest restaurant in Boulder and traditional student favorite. Yet in addition to these factors in its favor, the burgers and pizzas are undoubtedly top notch. (Fun fact: The Sink will be featured on the Food Network's Diners, Drive-Ins and Dives in September!)
Recently I have been veering towards vegetarianism, so I take it upon myself to try a homemade veggie burger whenever I get the chance. The Sink offers diners the choice to customize their own burger, starting with a base of many different meat options including turkey, tofu, grilled chicken, and a black bean burger. In addition, the menu features a selection of about a dozen sauces and toppings, with another dozen options for sides.
The black bean burger has the perfect amount of spice and an impressive consistency. I often find myself attempting to reassemble my sandwich after the veggie burger crumbles in the bun because it is rice or potato based and unable to stick together. The Sink mastered the craft of this healthy patty with the ideal consistency, flavor and size.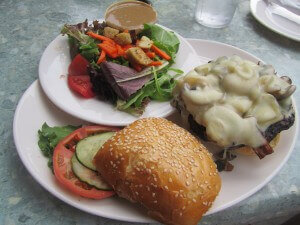 I chose to pair it with grilled onions, sauteed mushrooms, swiss cheese, and chipotle aioli, of course in addition to lettuce, tomato and option. I give myself credit for dreaming up this tasty combo and would highly recommend it for someone looking for a satisfying but healthy meal. The cheese and sauce made me feel like I was eating a real meal as opposed to typical vegetarian rabbit food (as my meat-eating friends often refer to my diet), but the base of the sandwich (black bean burger and veggie toppings) were actually healthy alternatives. Most importantly, the sesame seed bun was fresh and perfectly toasted.
In addition to scrumptious, widely diverse burgers, their menu also features an array of options including salads, pasta, pizzas, sandwiches, and great appetizers for sharing such as nachos, pizza bread and spinach and artichoke dip. Is your mouth watering yet? This spot may make the top of my list for Friday afternoon hangover cures.