by Emily Kane on June 13, 2011
1165 13th Street




Originally from Chicago, I was feeling a little homesick for my dad's Midwestern summer BBQ's so I decided to head to The Sink to kick the homesick blues. Since starting school at CU two years ago I have eaten at the sink a myriad times. Its prime location on the hill and its huge menu sealed the deal and it quickly became one of my go-to stops. Another plus is their great delivery service (through hungrybuffs.com), which is perfect for game days!
Not only am I a carnivore but I am also a bit of a bacon fiend so The Sink's BBQ Bacon Cheeseburger is one of my all-time favorites. Their thick beef patty is served smothered in cheddar cheese, The Sink's own hickory BBQ sauce, and topped off with crispy bacon and onion rings. Truly a meat lover's heaven. The burger is also served with your choice of side. I couldn't decide between onion rings or French fries but the waitress was nice enough to let me have both. The French fries were crispy, not too greasy, and coated in a Cajun spice. The onion rings were pretty darn good too!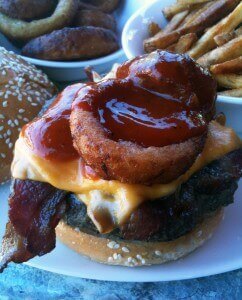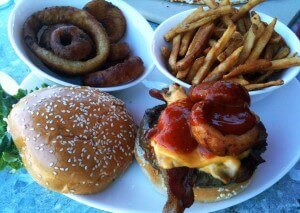 Although I was pretty stuffed after my meal I was able to snarf down a few pizza breadsticks that my friend ordered. The Sink's version of the pizza breadsticks are much thinner than average, eliminating that heavy bread overload that usually accompanies them. They're a great appetizer for sharing.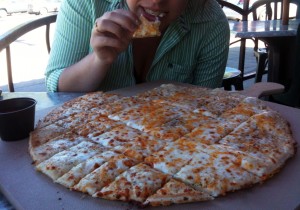 Although I have had a few greasy burgers at The Sink, in all the food is usually great and, by my experience, the service has never been bad. The lively atmosphere and mural covered walls really makes this restaurant a great stop. All you meat and BBQ fanatics out there hit up The Sink! You won't be disappointed.