by Lowell Bleiweiss on May 2, 2011



It seems like all of us here at Bite Into Boulder love two things — Sushi and Indian food. So you can understand my surprise when I saw that no one had reviewed The Taj, the closest Indian restaurant to campus. It's situated in the Basemar Plaza at Broadway and Baseline.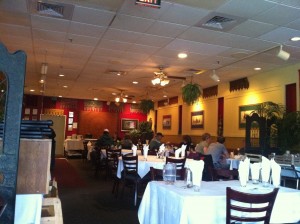 This is a restaurant that makes it into my rotation pretty often, and the service has always been great, until now. A couple friends and I strolled in at about 6:30, and they weren't too busy. After walking in and seeing the red and beige colors with authentic-looking Indian paintings and  tapestries hanging from the walls, my first thought, no matter how many times I go there, is always — this is going to be good.
We get seated immediately, but the hostess never gave us menus, nor did she even ask if we were going to have the buffet. After getting menus for ourselves, we decided that we wanted a taste of everything on the buffet. No waiter ever came, so we just went up to grab some food, they'd notice eventually right?… (Angry face)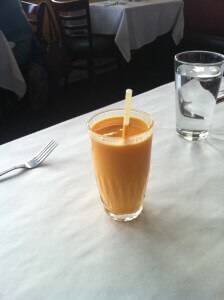 The bus boy noticed us when we asked for waters, and sent a waiter over. To make up for whatever you call this so far, he gave us a Mango Lassi, on the house. Mango Lassi is a very traditional Indian drink, made with mango, yogurt, and spices. It has a very mango-ey aftertaste to it.. Mmmmm.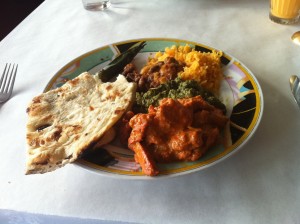 The food was much better than the service. I got Chicken Makhani (bottom), boneless chicken breast slow cooked to perfection in a tomato-ginger cream sauce. I highly recommend this one. Especially when picked up with a piece of Naan (left), an Indian flat-bread cooked on the side of a tandoori oven. The green stuff above the chicken is called Saag (pronounced Sahg). The best way to describe it is a delicious creamed spinach with Indian spices, also great with the Naan. Above the Saag, is basmati rice with lentils, pretty standard Indian fare. The lentils are like a vegetarian Indian chili.
Now for the most interesting part of the meal… you see that green cactus-looking thing in the top-left side of the plate? I had no idea what that was. It was fried okra! Would I have eaten it if I had known? Probably, but it turned out to be very good.
The service aside, The Taj still serves a mean buffet. It's regularly $15 and if you show them your Buff card, you get a dollar off! We waited until they brought us the bill to "remember" that we had our Buff cards, they reprinted it. That was our silent rebellion.
PS. Almost forgot to add this, when I was asking what the cactus-like thing was after dinner, my two friends were waiting by the door. Our waiter goes over to them, grabs menus and says "Would you guys like a table for two?".. !?!?!? HE WAS OUR WAITER!.. and why didn't we get menus in the first place?