by Hayley Hudson on March 16, 2011
1021 Pearl St / Menu





After a walk to campus  in 65 degree  temperatures while wearing jeans, boots, and several sweatshirts still managed to shake my entire body with chills, I had to face the truth: intruders had entered my system. A firm believer in home remedies, I knew soup could correct my ailment, so I headed to Two Spoons.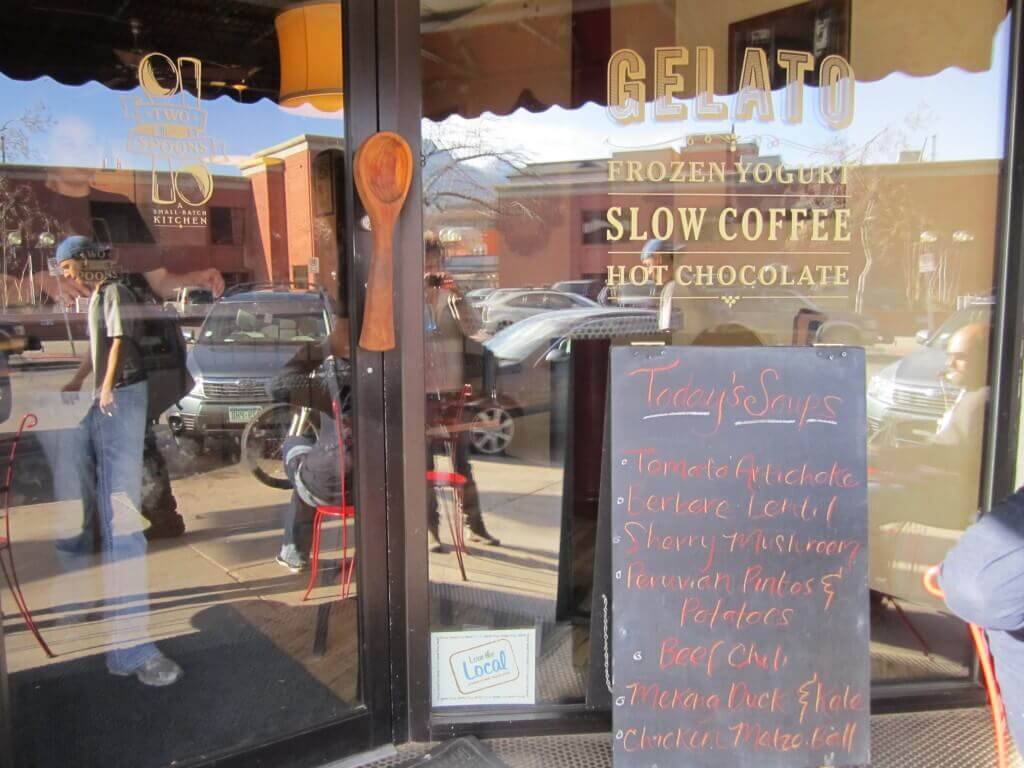 Two Spoons
Their restaurant is named as such because during the summer they serve gelato, and come winter they serve soup. Instead of choosing one or the other and accepting seasonal declines in sales, Two Spoons laughs in the face of nature and serves up spoonable sustenance appropriate for any weather circumstance. Tuesday's sunny, clear skies drew a crowd at Ben and Jerry's, so I was lucky that it had been deemed cold enough for soup to remain on the menu.
When a place serves primarily soup and gelato, I expect it to be really excellent soup and gelato, and though I can't speak for Two Spoons' cold creamy stuff, outstanding soup awaits any visitor to this establishment. Have you noticed the way soup from a can never fails to resemble every other can you've cracked, even across brands? I feel betrayed if a restaurant soup produces the same phenomenon, but the remarkable freshness of my Peruvian Potato and Pinto Bean bowl erased any potential soup identity crisis. Crisp and slightly spicy, the flavor wasn't one I felt could be easily replicated.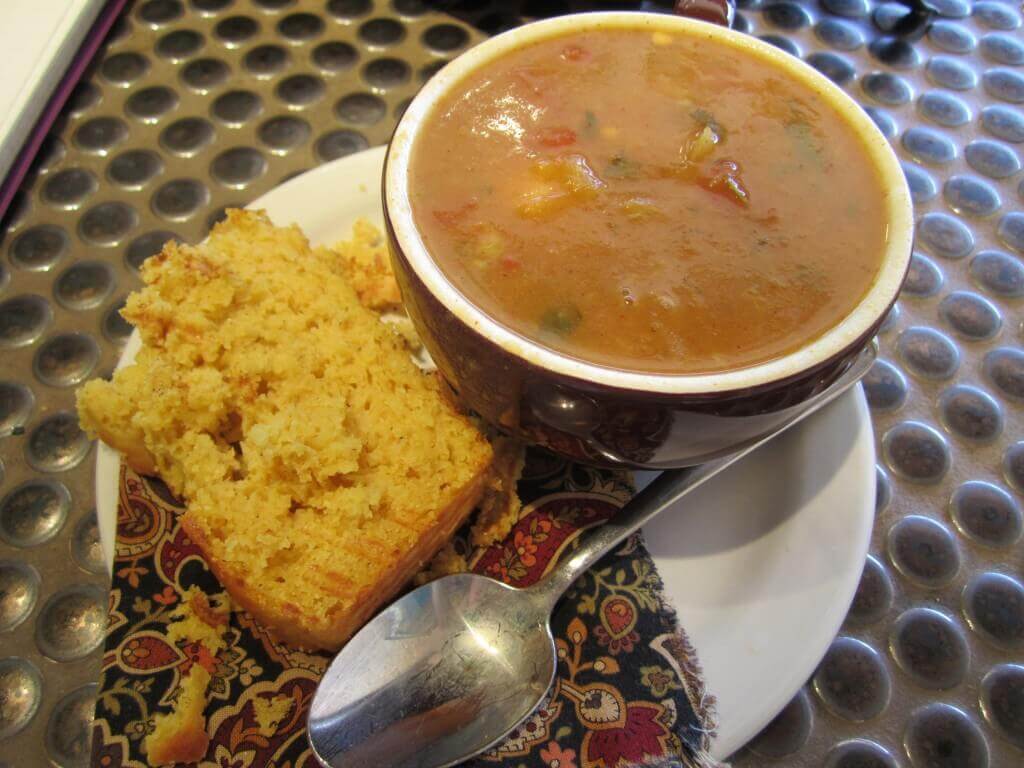 Peruvian Potato and Pinto Bean; cornbread
My weakened state stifled my usual zest for food adventure, and though my choice completely satisfied me, I'd like to return with a stronger stomach and order the Duck and Kale soup. The offbeat poultry and veggie blend seemed to be a customer favorite judging by the prolific requests put in at the order counter.
Customers also have the option to add a sandwich to their soup, and while sandwiches aren't "spoon" food, they make a welcome addition to the menu and ensure that visitors leave with full bellies. That said, my soup sans sandwich surprised me with its heartiness, and I declare it a full meal on its own. It made me feel better, too.
I can only hope this creative solution to the soup/ice cream/weather conundrum brings in enough cash to keep it going. I would hate to see the cute spoon door handle disappear, so go get some soup! (Or gelato). Two Spoons takes $.10 off your order if you bring your own spoon—no discount if you just like to spoon.