by Jessica on December 5, 2011
1605 Folsom St./Menu





 if hungover



 otherwise
It honestly shocks me that this place was not absolutely jam packed with hungover students on this Friday morning. Perhaps it was still too early (we arrived around 10:30am), but everything on the menu was under $10, loaded with grease, and there wasn't a salad or fruit cup in sight- where were the kids?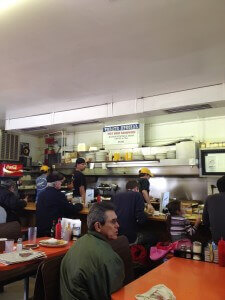 The Village might be a hungover kid's dream but a foodie's nightmare. With everything being cooked on a giant griddle, options ranged from eggs, to pancakes, to sandwiches (think tuna melt, grilled cheese and chicken fried steak). Turned on by nearly the entire grease-loaded menu, I opted for the Spanish omelette, packed with cheese, tomatoes, onions, green pepper, cheddar cheese and picante sauce.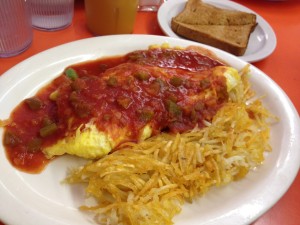 I have truly never tasted better hash browns in my life. The concept was basic: shredded potatoes and maybe a little oil and butter, nothing fancy. They were perfectly crispy without being soggy or burnt, and were even better doused in ketchup. For the omelette, the picante sauce sealed the deal for me. Anywhere can make a good omelette, but the sauce, whether it was homemade or salsa out of a jar, was amazing. It made the eggs feel like something a little more substantial, and packed the flavor and heat. If you can believe it, all this was a "half" order. For a few bucks less, any omelette can be made with one less egg, half the order of hash browns, and half the amount of toast. I couldn't imagine eating a bite more (but of course it could and would have been done).
No review would be complete without including my experience as a "Village Virgin." When our waitress asked if we were all first-timers at the village, I expected her to then offer us a complimentary cup of coffee, or walk us through the menu a little bit. Instead, she commanded the attention of the entire restaurant, announced that we were all Village Virgins, and led all the patrons in a round of applause. My friends were mortified, I loved it.
For a cheap, hangover breakfast, look no further than the Village Coffee Shop. The prices simply cannot be beat, and the only thing that could make this locally-owned establishment a little better was if it were open 'til the wee hours of the morning.