by Lowell Bleiweiss on May 15, 2011





Fish sauce.. what the hell is it? It's not fish
y. What gives? My brother and I got into this argument the other night at Vina Pho & Grill, a brand new Vietnamese restaurant right here in Boulder. He said it didn't have fish, I said it must. Luckily, our waiter overheard us and came over to settle the debate. Turns out fish sauce really is made of fermented fish — one for me, none for my Big Bro, a good start to any night.
In addition to the knowledgeable waiters, Vina also serves some of the best Vietnamese food in town. We started out with the Beef Carpaccio with an herb and lime dressing, and an order of Spring Rolls, a staple of any good Vietnamese restaurant.
The Beef Carpaccio was the single best appetizer I've had at any Vietnamese restaurant I've ever been to, and that's saying something. Carpaccios are typically raw, but the dish is very lightly-seared thinly-sliced beef topped with a dressing. It was light, fragrant, and had just enough delicious herb and lime dressing to dip every piece without drowning the meat. The portion size was rather large, easily enough for our table of 3, and at $9, it better be enough for the table. It was well-worth every penny though, kudos Vina.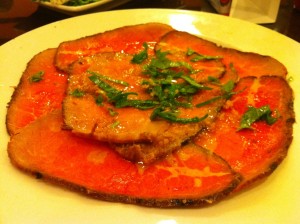 The Spring Rolls were pretty standard fair. They are noodles, lettuce, and sometimes meat, mint, and cucumber wrapped in a thin rice paper, usually served with a delicious peanut sauce. While the rolls at Vina didn't stand out like the Carpaccio, they were quite good and I would order them again.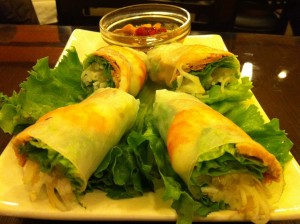 For my main course, the waiter recommended that I try the Pho, a house specialty — so special in fact, it was on the page before the appetizers on the menu. This was for good reason too. Like the name says, this place knows their Pho, it was the best Pho I've had here in Boulder. Pho is a Vietnamese noodle soup, traditionally served with rice noodles and meat or veggies in a beef broth (vegetable broths are available too), and a plate of assorted herbs, lime,  bean sprouts, and jalapeños for the customer to add as much or as little of as they please. I suggest adding a little hoisin sauce too.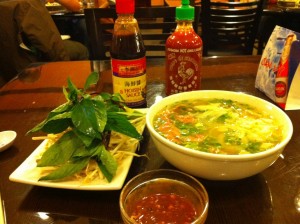 Enough about the food, it may have been delicious, but there's certainly more to a restaurant than just the food, and Vina doesn't disappoint there either. When you walk into Vina you are greeted by friendly waiter and warm colors. The walls are nicely decorated with Vietnamese artwork and decor, this would be a great place to take a date.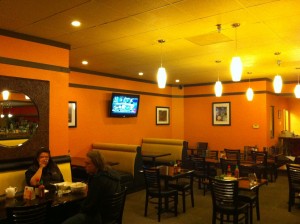 While the attire is casual and the prices fair — $4 for the Spring Rolls, $9 for the table-sized Carpaccio, and $7.50 for the medium Pho — the atmosphere is friendly and inviting.. and if you're nervous with your date just argue about the fish sauce for a while. For those of us strapped for cash, you could get a filling meal for $10 including tip.
If this review hasn't been enough of a glowing recommendation for Vina Pho & Grill at 30th and Canyon next to the UPS Store, consider this; on my way out I saw a Vietnamese waiter-friend of mine from another local Vietnamese restaurant cozying up to a nice bowl of Pho on his lunch break. If that isn't enough to get you out the door to Vina right now, I don't know what is.