by Emily Kane on June 19, 2011
1123 Walnut Street




While the Walnut Brewery is famous for their in-house brews, my age restricted me from trying them out (but they seemed pretty popular with our neighboring patrons) so I opted for something a little less fermented. I began with their homemade strawberry lemonade. Nicely balanced between sweet and sour, it was a great thirst quencher on a hot afternoon.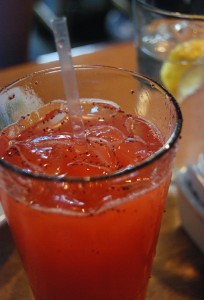 To start off our meal we ordered the Firecracker Shrimp. The shrimp were lightly battered and fried, coated in a spicy Thai chili sauce and generous amounts of cilantro. The flavors were intense but the cream based ginger dip that accompanied them helped to lessen the burn. They were so delicious they didn't last longer than five minutes on the table.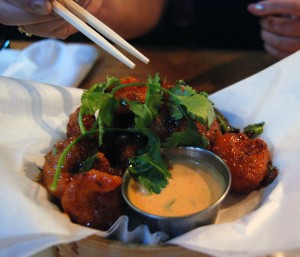 For dinner my friend ordered the mac n' chicken while I opted for the Bourbonzola steak sandwich. The mac n' chicken was served baked in a ceramic dish covered in parmesan breadcrumbs. The pieces of chicken were very thin and hidden throughout the creamy macaroni. I would've preferred heartier pieces of meat but overall the dish was pretty good.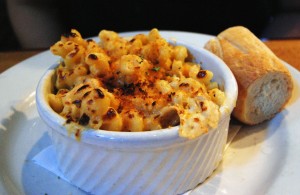 My Bourbonzola sandwich was pretty incredible. The steak was thick and juicy, a lot less greasy than traditional hamburger meat, and covered with melty gorgonzola cheese. The sandwich was topped off with loads of crispy onion "straws" (thinly cut onions, lightly breaded and fried) and a thick buttery bun. The bourbon sauce served on the side was very sweet but was a great juxtaposition to the savory flavor of the meat. The Bourbonzola was a rich dish overall, but was not weak in flavor. I would suggest this option for the more adventurous palate, and hungry stomach.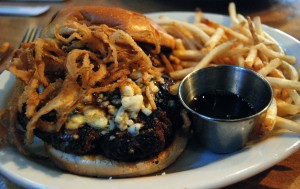 While our server was a little quirkier than most, he was very attentive and we had an enjoyable dinner. The high ceilings and open cased beer casks give the Walnut Brewery a large-scale tavern feeling. Great for family dinners, friend get-togethers, or even a laid-back office party, the Walnut Brewery was a really great dining experience!