by Jessica on November 4, 2011
3073 Walnut St. (also on 673 S. Broadway)/Menu





Outdoor seating equipped with fleece blankets, Katy Perry mixed with Oldies tunes on the radio, and a famous pie menu that changes daily. Am I dreaming?
It boggles my mind that it has taken me until senior year to make it to the Walnut Cafe, Boulder's best-kept breakfast secret. With a diverse menu of breakfast and lunch items, speedy service and peppy servers aiming to please, it is no wonder this locally-owned joint was packed on Sunday morning. Think of that perfect day in February, when you take a break to soak up the Vail sunshine and load up on cals before heading back on to the slopes. The Walnut Cafe imitates that experience just minutes from home.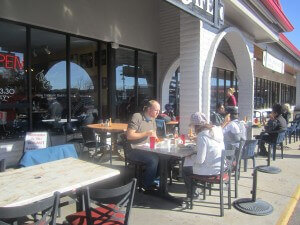 Naturally, I dove into my Sunday morning ritual with an orange juice. Walnut Cafe's  was not fresh squeezed, but nothing could have put a damper on this meal.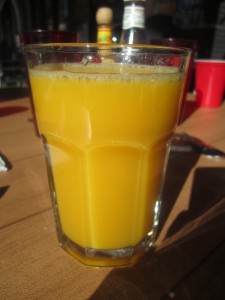 The Walnut Cafe's endless brunch menu was perhaps the most vast and appealing list of items I have read in a while. With options ranging from blueberry cornbread pancakes, to burgers to huevos rancheros, I found myself wondering, what don't they have? As my usual routine progressed, I experienced indecisiveness, then food envy, then settled on my traditional veggie omelette.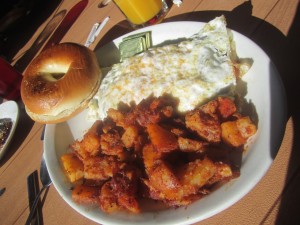 Yes, the picture shows my apparent morning carbo-load. But with the choice of two sides from a list of at least 10, I chose to go big or go home. Clearly, I went big. My fluffy omelette was packed with cheddar, mushrooms, onions, tomatoes and green peppers, and I opted for breakfast potatoes and a bagel for my sides. Could you think of a better hangover cure?
I also managed to snag a bite of my friend's pumpkin pancakes that she chose as one of her sides. I'm not sure if this was a seasonal addition or a permanent star on their menu, but I hope the addition at least lasts through the holidays so my fellow foodies get the opportunity to sample this treat.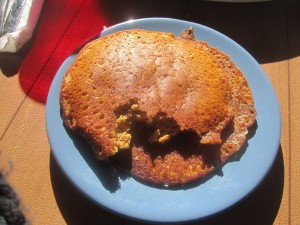 If its not already evident, I found a new love in Boulder. I question whether it was the outdoor seating on a sunny day or the food that inspired me on this lovely morning, but either way, it was an absolute hit.