by Jessica on October 4, 2011
926 Pearl St./Menu




On Pearl St., real estate is what can make or break a restaurant. At the West End Tavern, its real estate is prime, gaining the spot its four star rating.
Perhaps the best thing about West End is its huge roof-top patio and bar. On a warm day, the patio is an ideal spot to score a view of Pearl St. and the mountains, while shading customers from the baking Boulder sunshine.
The muddled strawberry lemonade immediately caught my attention upon first glance at the menu. Hot day, hungover, dehydrated; could you imagine a better drink to cure these symptoms? It was refreshing and naturally sweet without being over the top. I would highly recommend it, and wish I could recreate it at home to mix with some rum!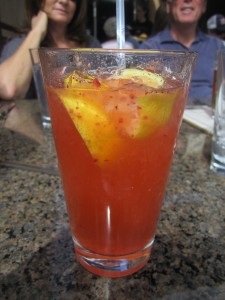 We started out with an order of the homemade yam chips and guacamole, perhaps The West End's most infamous dish. Who would have thunk to pair yams and avocado? Whoever did, thank you. What a clever twist on traditional, and potentially boring, chips and guac. On top of the overly generous portion, the chips were crisp and flavorful, and guac was fresh and creamy. Honestly, the chips were so good they didn't even need to be dipped. Though we were in awe at the heaping bowl of chips when it was served to us, we had no problem finishing it. They were so light, I even questioned if they were baked.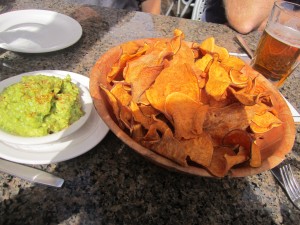 In continuation of my veggie burger tour of Boulder, I decided on Julio's Veggie Burger, which came topped with arugula, mozzarella and tomato jam. The homemade patty was stuffed with corn, black beans and plenty of spices, and had a great consistency. However compared to some of the other comparable burgers I've tried, West End's honestly was not the best.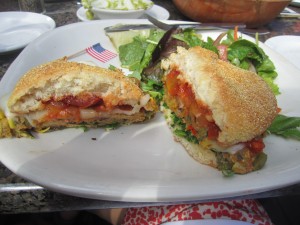 Though not part of my personal West End experience, my dad ordered the Sunday special. Every Sunday, The West End Tavern sets up a smoker out front, and serves up a barbeque platter consisting of barbeque pulled pork, barbeque ribs, coleslaw, corn on the cob and watermelon. Although pork isn't my thing, I did not want to deprive readers from learning about this special Sunday tradition at West End, which came with rave reviews from dad.
The bottom line: it is the ambiance, namely the roof-top patio, that keeps loyal customers coming back time after time. I did not think the food was anything special, though there was nothing wrong with it, but I would hands down return on a sunny day just to chill up top. Yam chips, muddled strawberry lemonade (or maybe even a beer), and a little Colorado sunshine peeking out from the awning- sounds like a perfect day at the West End Tavern.