by Emily Kane on June 4, 2011
926 Pearl Street
West End served as a quiet and cool oasis on what seemed to be one of the first true summer days in Boulder. Famous for its 50 wings in 30 minutes appearance on "Man vs. Food" I was excited to check this place out. Inside was dimly lit and casual, reminiscent of a true western tavern. The chiseled male wait staff and cute hostesses definitely added to the aesthetic appeal. The menu has a wide variety of BBQ, burgers, and even Mac & Cheese and fish and chips. I was starving and couldn't make up my mind so I took our waiter's advice. I ordered his favorite : the House-Smoked Pork Shoulder sandwich pressed with cheddar cheese. I was not disappointed. Different from pulled pork, the pork shoulder came sliced and smothered between layers of melted cheese. It was a really nice alternative to pulled pork sandwich with much less grease but still packed with flavor.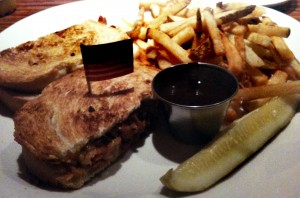 My friend ordered the Tavern Cheeseburger with cheddar cheese. It was a hearty sized burger loaded with all the toppings. Although not exotic, she said it was a darn good burger. More importantly, the fries were great and they weren't skimpy about the portions!
For desert we ordered the cookie cooked in an iron skillet and topped with chocolate and caramel sauce. It was so delicious it was gone before I could pull out my camera. But trust me, it was awesome. Served straight from the oven the cookie was still bubbling! I really enjoyed my lunch at West End Tavern and highly suggest it. Next time I go though, I'd love to check out their roof-top deck and attempt the 50 wing challenge!!