by Jessica on November 11, 2011
2905 Pearl St.





My quest to sample all of Whole Foods' offerings continues. This time, I headed straight to the pizza counter.
I must admit, my hopes were not through the roof. I questioned how good the pizza could be in a supermarket, even one with fresh ingredients and a visible stone oven. Perhaps reflecting back on my skepticism, it seems foolish that I had my doubts. Yet the second the pizza landed on my plate, I knew I would be proven wrong.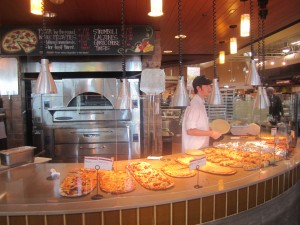 The pizza options changed almost every five minutes as they continued to pull fresh pies out of the oven. When it was my turn to order, my options consisted of cheese, garlic and onion, meat, vegan and Greek (possibly amongst others). I selected the Greek, which was topped with artichokes, red onions, black olives, sun dried tomatoes, and plenty of sauce and cheese. It was a total knockout. The ingredients were fresh and flavorful, and the crust was the perfect balance of crispy and fluffy. I also loved that you could order as much or as little as you wanted, so you have the option to just snack on one piece or share a whole pie.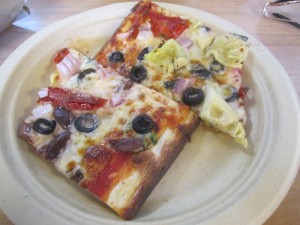 If you're feeling ambitious, my recommendation would be to do a little Whole Foods sampling; for example, a piece of pizza and some goodies from the salad bar. But after trying one piece of pizza, you might not want anything else.