by Jessica on December 11, 2011
2905 Pearl St.





My quest to sample every item in the store continues at my favorite healthy hot spot, Whole Foods. I have become one of those suckers for organic, believing that just because it is organic, it must be good for you. At a place like Whole Foods where nearly everything is organic, that belief does not bode well for my spring break diet.
On this excursion, I decided to go for the salad bar. During my previous ventures, I cruised by the salad bar yet decided to be a bit more adventurous by sampling their other specialty counters. But this time, after examining each colorful vegetable, salad and grain, I just couldn't resist.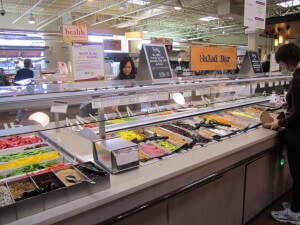 While making my way down the bar, scooping a little of everything into my bowl, I experienced a classic case of my mind becoming larger than my stomach. I started with the basics, some lettuce, tomatoes, beets, corn, the usual. But as I approached the more exciting options, like chicken caesar pasta salad, parmesan noodles, edamame succotash, roasted vegetables, and plenty more that are buried in the mess, my salad quickly became quite heavy (and pricey). Clearly, I was more excited about the mixes of proteins and carbs and less tempted by the veggies. I love that Whole Foods' unconventional and tremendously fresh salad bar allows diners to combine greens with Indian specialties, pasta salad, or roasted turkey. The salad bar is truly the cure for the indecisive diner.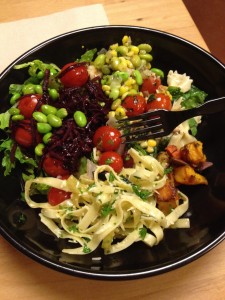 I am nearly there in completing my 360 degree tour of Whole Foods. As much as the salad bar pleased my taste buds, there is much unconquered territory to be discovered!