by Jessica on November 11, 2011
2905 Pearl St.





Welcome to Whole Foods, the health food mecca for all Boulderites; on Pearl, its just about heaven. Busy Boulderites are sure to be found buzzing in happiness over the vast (and I mean huge) array of organic food options, prepared food stations, and specialty counters.
To add to the mix, Whole Foods on Pearl features a large patio of outdoor seating facing towards the mountains. Though there was a parking lot directly in front of us, I found it hard to focus on anything but the breathtaking view. We were joined by students, families and business lunchers, similarly enjoying their Whole Foods experience.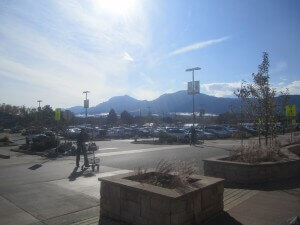 The prepared foods section of the store appeared to be endless, and was almost intimidating to a first-time luncher. Just to name a few, diners had options including pizza, tacos/mexican, asian/sushi, sandwiches, BBQ, salad bar, "greens, beans and grains," soups…I could go on. In a place like Whole Foods, I typically assume that anything being served up anywhere throughout the store is fresh, perhaps local, and delicious. These stations absolutely passed my test, at least from the looks of it. After about three laps around the periphery of the area, I settled on a sandwich.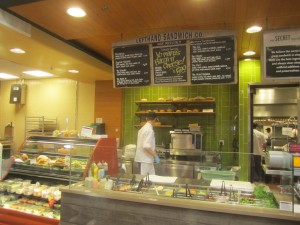 At the sandwich station, customers were given the option of about eight specialty sandwiches, served hot or cold, a case full of pre-made sandwiches for diners on-the-go, or for the truly innovative, a "build-it-yourself" option. Talk about choices! I chose the Flatiron Sandwich, a flatbread sandwich with smoked turkey, avocado, roasted red peppers, tomato, provolone cheese and a chipotle basil spread, served warm.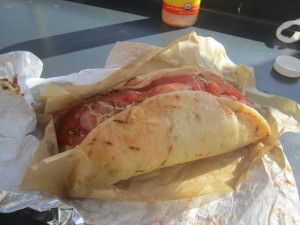 The rolled up flatbread, like a burrito, made for a satisfying and filling concoction. Because I requested no bacon, my server stuffed the roll-up with extra turkey. Though it was filled to the rip with turkey and veggies, the flatbread made it seem a little healthy. I would absolutely recommend this sandwich, especially to anyone with an avocado obsession like myself, yet the entire menu had my mouth watering.
My plan is to sample from something from every counter as part of my foodie quest through Boulder. Nearly every counter offers customized, organic options to cater to a personalized dining experience. If every counter delivers quality foods like my sandwich, I'm in.