by Jessica on November 13, 2011
2905 Pearl St.





What a genius idea: sandwiches by the ounce. Can't decide? Go for a little of both. For the indecisive folk like me, it is the end-all solution to all my problems. At Whole Foods, the stationary cart-like counter often offers about four options. If you really can't decide and are especially nice to the thoughtful server, you might even get a free sample.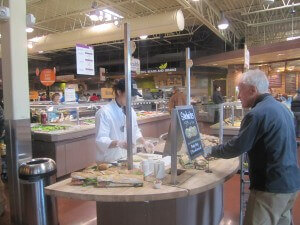 I narrowed my choices down to the tomato, mozzarella, pesto and balsamic, and the turkey, provolone, arugula, tomato and avocado. I loved that the submarine-style sandwiches, cut to order, allowed each patron to order for their specific appetite. Each sandwich was absolutely delicious, from the bread to the fresh and flavorful ingredients. The bread was crispy and crumbly on the outside and light and fluffy on the inside, one of my personal favorite combos. Though I have no reserves in recommending either sandwich, my preference was the tomato mozzarella. The  mix of flavors went perfectly together and was dressed with the perfect amount of balsamic and pesto without weighing down the entire sandwich.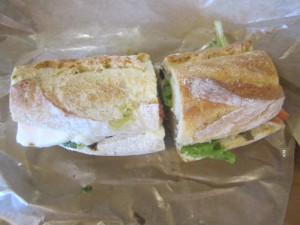 I continue to have a hard time finding something less than perfect being served up at Whole Foods on Pearl. Yet this stand sets this sandwich shop aside from others, in allowing diners a more personalized experience amongst delicious options.