by Jessica on February 18, 2012
1301 Broadway St./Menu




I have probably passed by this place literally hundreds of times during my four years of residency on The Hill. Sometimes, I wrote it off as being sketchy. Others, I actually thought it was part of Tra Lings. And recently, I have been meaning to try it after creepily staring at happy diners during lunch time. I like to do my research before visiting a new spot, and everyone said to head to You and Mee for the Pho. On this snowy evening pre-Snowday, nothing sounded better.
The menu was short and sweet. A few appetizers (think spring rolls of many varieties), a few noodle/stir fry dishes, and then various combinations of build-your-own pho. I ordered my pho with chicken broth, then loaded with tofu, mixed vegetables and noodles. But what made my soup even better was the topping bar adjacent to the register, equipped with bean sprouts, cilantro, jalapenos, lime, chili sauce, brown sauce, soy sauce, siracha…you get the point.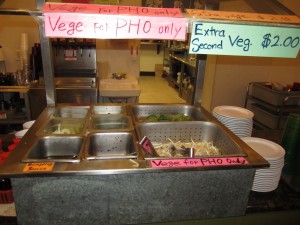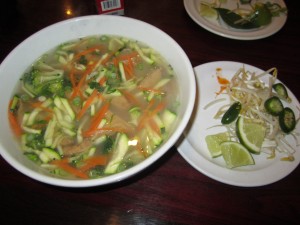 I'm not sure if it was all the condiments that made it so good or just the soup itself, but it was very tasty. For me, I like to add tons of lime and tons of spice to my pho, so I loved that Y&M allowed patrons to add flavor to their liking, and had all the condiments right there for their use. Though not the best pho I've ever had, it was pretty good.
We also decided it was an absolute must to sample some dumplings (an apparent rather new addition to the limited menu). I was impressed by the variety of dumplings offered, all with the choice of either having them steamed or pan-fried. I felt like the push-over husband when my dieting friend insisted on having ours steamed. Nevertheless, they were simply delicious. Stuffed with veggies and tofu, they were flavorful (especially in the HOT chili sauce), cooked perfectly, and a great compliment to our soup.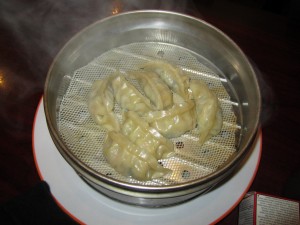 Though I cannot speak to the remainder of foreign items on the menu, the Pho and dumplings are reason enough for me to head back to You and Mee. On a cold night, nothing is better than some warm soup, and this one is worth the five minute walk.