by Emily Kane on July 15, 2011
1311 Broadway Street



On my way to work I popped into You & Mee Noodle House for an early dinner. A friendly older woman behind the cash register greeted me. Starving, and unable to make a decision, she suggested I try the Udon noodle stir-fry. I decided to go with it and chose to add shrimp to my entrée and also added an order of shrimp spring rolls as an appetizer.
The shrimp spring roll arrived first, accompanied by a dish of peanut sauce. The spring rolls were filled with cold vermicelli noodles and shrimp all rolled in a sticky rice paper. While the rolls themselves had little flavor, when dipped in the rich peanut sauce the crunch of the cold spring rolls were nicely complemented by the savory peanut taste.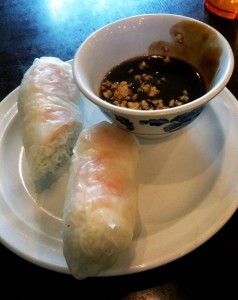 Next my stir-fry arrived, and the large portion pleasantly surprised me. The thick udon noodles were coated in a yummy spicy-sweet sauce and mixed with crunchy vegetables. Moreover, the dish was topped off with more than a half dozen fresh shrimp. I had trouble finishing my meal, not due to poor quality, but between the rich flavors and large portion I had to stop myself before reaching a food coma!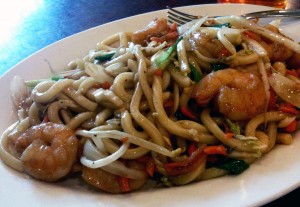 While perhaps not the swankiest Asian restaurant in Boulder, You & Mee Noodle House has great tasting food at reasonable prices in a fantastic location! I really enjoyed my meal and will be sure to try their bao buns and Pho (a traditional Vietnamese noodle soup) on my next visit. The next time you're on the hill and craving Asian cuisine I highly suggest you give this place a try!