Anyone who knows me, knows how obsessed I am with asian food.  Good japanese and Indian restaurants such as Japengo and Tandoori Grill  are easy to come across in Boulder.  But when it comes to good Chinese food, this town is hurting.  That is until Zoe Ma Ma opened last year on 10th street right off of the pearl st. mall.  Don't expect to find your average american chinese sesame chicken dish here.  Mama brings a unique style of chinese food from Asia and boy can mama cook!  My favorite thing about this restaurant is their dim-sum menu.  I grew up loving dim-sum and its always a challenge to find some quality dim sum.
I started off with four original pot stickers and they were some of the best pot stickers I've ever had.  According to the menu, its a top secret recipe so I won't give away too much information (I don't want to piss off mama!)  But the pot stickers are big and stuffed with pork, shrimp, garlic chives and vegetables.  When dipped in spicy soy sauce it has the perfect flavor.  I devoured the first two and then remembered I had to take pictures!

Then the "CPR" came out.  Normally it consists of chicken and potato mixed with gravy served over rice, but I was in the mood for noodles so substituted the rice with noodles.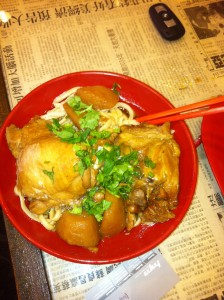 The description on the menu reads "It's so good, you'll need it."  The menu never lies.  Two chicken breasts (not cut up) mixed with potatoes and cool noodles was definitely something I've never experienced before.  The combination was simply perfect.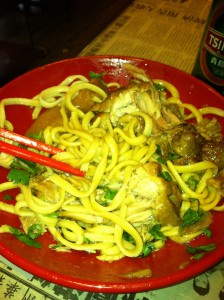 I can finally say that I found my chinese joint in Boulder.  It only took me 5 years! "Its quality for your tummy and Mama approved."