by Andrew Woodman on April 24, 2011
2010 10th Street
Boulder, Colorado 80302
Zoe Ma Ma's website

gluten-free, vegetarian, and organic-lover friendly!
Zoe Ma Ma's Chinese food is definitely Boulder bent: they are very health oriented. This makes dim sum intake limited by the fact that it is priced per dumpling, which makes it relatively pricey to what I'm used to.  Their noodle and rice dishes use the same healthy/pricy ingredients, but for their size they are actually really decently priced.  Go figure.
I started off with a dim sum plate, and got one of each of the following (pictured left to right from top to bottom): Original Potsticker [$1.25], Pork Bao [$2.79], Vegan Dumpling [$1.25] and Sao Mai [$1.25].
I thoroughly enjoyed 3/4 of this plate.  The Original Potsticker was easily my favorite, and I also enjoyed the Vegan Dumpling (filled with tofu, shitake, garlic) and the Sao Mai (steamed pork wrapped in wonton paper)… but the Pork Bao—which by the way is my favorite dim sum item—was easily a disgrace to all steamy buns.  The "fluffy" outside was barely that, as it was dry and had the consistency of a slightly overcooked piece of bread.  It also wasn't sweet in the slightest, and the organic wheat really just made it super mealy.  It also took me more than one bite to get to the marinated pork middle. By the time I got to that point, I was so disappointed that I don't even remember what it tasted like.  And this is their most expensive piece of dim sum?!  Shameful.
I got the Za Jian Mian, which I was told is their most popular dish.  It's a classic Northern Chinese hot noodle dish, that uses fresh organic egg noodles and is topped with ground pork, "sauce," green onions, and julienned cucumbers and carrots.  The noodles were super yummy and had a perfect consistency and texture for slurping.  The ground pork was good, as they use all-natural meats, but it was slightly overcooked and thus a little bit dry.  The sauce didn't only add brothy + citrusy + spicy flavors to the dish, but it was seriously a necessary tool to assist me with all that slightly dry pork.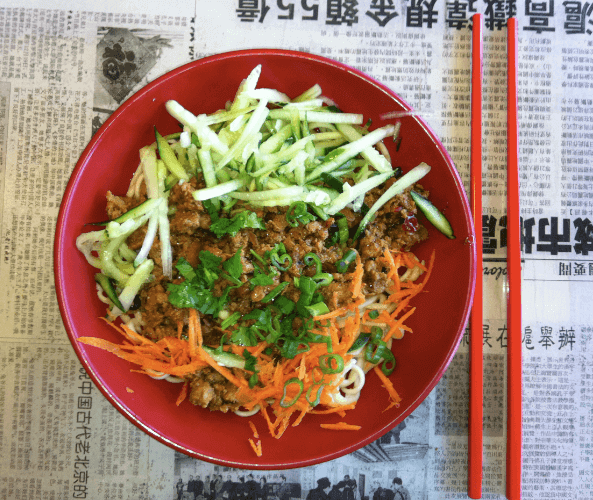 __________________________________
So they have a pretty solid noodle dish, and a botched Bao, but at least they have the most praiseworthy selection of dim sum in town (that I have seen… please tell me if there are any others, Lollicup doesn't count).  I also really liked their Chinese newspaper decorated tables, which further reminded me that I still cannot read Chinese.
On top of all this, I guess I have to give them credit for being a healthy Chinese restaurant in America.  Who would have thought that was possible? Welcome to Boulder.
/^_^\