by Andrew Woodman on February 20, 2011
1117 Pearl Street
Boulder, CO 80302
(303) 473-4730
Hapa's menu | Happy hour info




As a classic Boulder restaurant that everyone seems to enjoy, Hapa seems to be doing something right.  Maybe its the fact that their menu items are riddled with sex terminology like "69 Roll," "Orgasm Roll," or even the cream cheese packed "Multiple Orgasm Roll" (if you are lucky enough).  To most people sexual innuendos aren't on the top 50 list of things associated with sushi, but for Hapa it's number 1 or 2.  One thing is for sure:  I would be hesitant about coming here with my parents.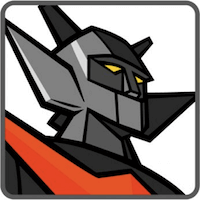 Hapa's giant robot theme seems like its aiming for that modern, cute robot trend that no one could hate.  Hapa's robot's evil eyes, however, kind of remind me of Godzilla, which seems inappropriate with respect to the country that created the foundation for Hapa's modern, creative cuisine.  This was only my perception, which could very well have been altered as a consequence of Hapa's ridiculously cheap, high-quality happy hour drinks.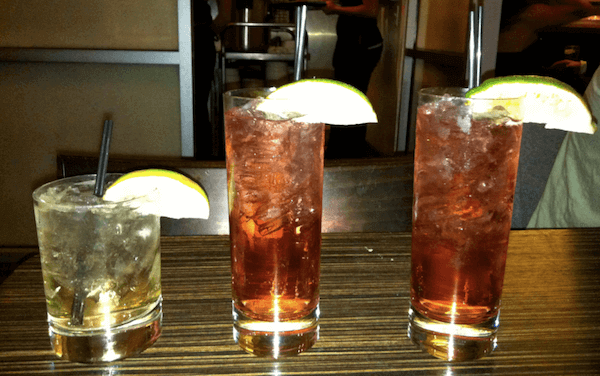 Starting at the left we have my drink, the Mango Gin Ginger [$3.50].  What we have is a classic Gin Ginger (gin + ginger ale) to which Hapa adds an the impressive sounding ingredient: mango-infused sake.  This is a mixology phenomenon; mango-infused sake made this drink into the sweet, sexy older sister of my favorite mixed drink: the gin and tonic.
My two pals Matt and Jesse ordered the other two pictured drinks.  These drinks are another example of why I would never go to Hapa with my parents, or really anyone outside my generation.  I had a few tastes of the G-Spot [$3.50].  It honestly really hits the spot, if you know what I'm saying.  With raspberry-infused sake, raspberry vodka, ginger ale and a lime wedge, the G-Spot is essentially a sweeter Japanese Cosmopolitan.  These close relations to the Cosmo automatically categorize the G-Spot as a "girly drink."  However, the only real thing that this sexist category implies is that boys don't like sweet things, which is so wrong it hurts.  Besides, what boy wouldn't want to say "G-Spot" to a waiter and not be in the wrong?  As she walked away, we giggled.
Cheap, quality happy hour drinks: 

For happy hour food Hapa has two sections: select Rolls are priced at $3.50 and Little Sides, which are smaller versions of select appetizers, are $2.95.  I got a little side of Hawaiian Calamari.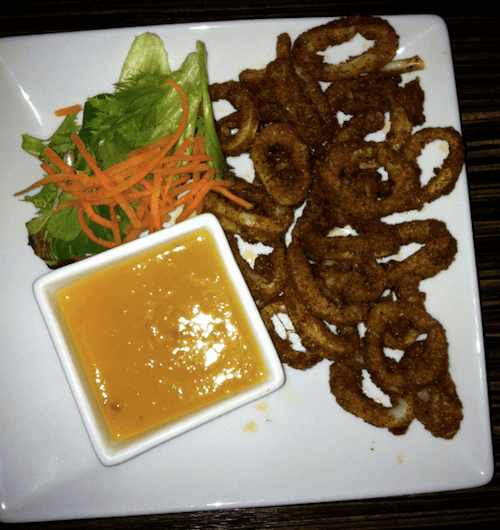 The Hawaiian Calamari dish is comprised of panko crusted fried calamari, mango chili dipping sauce, and an ugly presentation of leaves and shredded carrots that is not useful for anything.  The panko breadcrumbs didn't adhere well enough to the actual calamari for me to fully enjoy this dish, but the mango chili dipping sauce really made up for that.  After the calamari was gone I tried to eat the left over sauce with my chopsticks, which was not effective and probably would have been embarrassing without my Mango Gin Ginger.
Next on our "take advantage of happy hour" checklist was a triple order of the Salmon Avocado Roll.
Enjoyable, but nothing outstanding.  "And that's all I have to say about that."
—Forrest Gump
The best food I ate coincidentally wasn't on the happy hour menu, but the Unagi nigiri [$4.50] was still pretty fairly priced.  This is simply freshwater eel on top of rice with toasty sesame seeds and eel sauce, which is basically a sweetened, reduced soy sauce (it's a misnomer, it doesn't taste eely at all).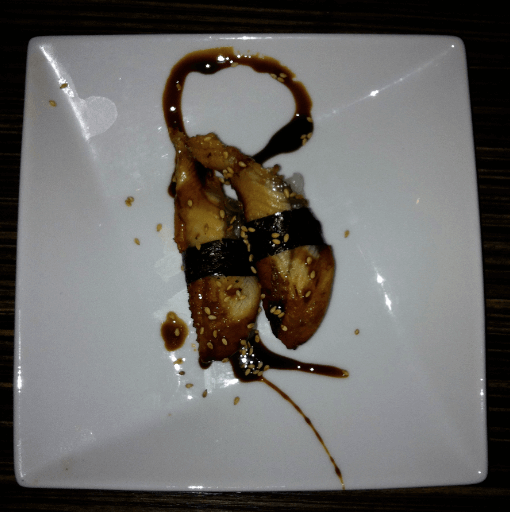 Flat out, Unagi nigiri is my favorite sushi.  It literally took forever to come out of the kitchen, but I didn't hold it against them because for a second, I thought there was a chance they were out hunting for the eel in order to serve me the most fresh Unagi I have ever tasted.  That wasn't true, but it would be pretty neat if it was… Like every nigiri, there was a little piece of seaweed that barely held the eel and rice together long enough for anyone to successfully transfer it from plate to mouth without it almost falling apart.  Thus you are forced to eat it in one bite, which in my opinion is the only way to do it in the first place.  Although it isn't possible to have too much eel sauce and sesame seeds with Unagi, Hapa served a fair portion of it with my dish.  After I finished the warm, tender—yet slightly crispy—Unagi, I obviously attempted to eat the sauce/sesame seeds with my chopsticks.
With their non-happy hour menu being pretty normally priced for a sushi joint (which is naturally pricy), happy hour really gives anyone the opportunity to try out some great items from their menu.  So if you want some cheap sushi rolls and appetizers that will surely complement some delicious mixed drinks very nicely, hit Hapa up.  (Note: If you are sushi pretentious because the sushi back in your hometown is better quality, get over it and try out happy hour at Hapa.  Maybe you just need some liquid courage, and Hapa's got it cheap.)