by Hayley Hudson on March 18, 2011
1468 Pearl St / Menu




After fruitlessly trying to begin this post with a reference to sushi being in the "house" (you know, the "casa"),  some online research revealed to me that in Japanese, "kasa" means "umbrella," which makes this restaurant aptly named.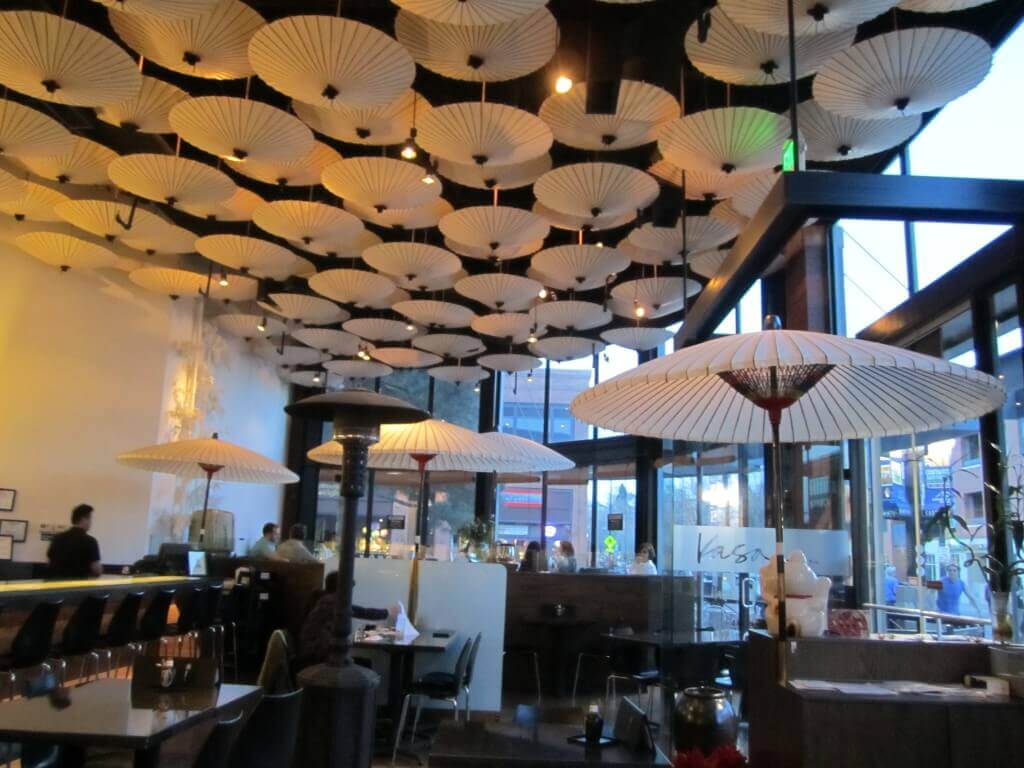 Umbrellas were everywhere! Scattered around the interior and coating the entire ceiling, the canopies added a romantic flair to the otherwise streamlined, modern decor. Looking at them now, they are beginning to represent my need to verse myself in a world language other than English or Spanglish.
Because it's so pretty, Kasa would be a stellar pick for a sushi date. (Nothing against the robot theme at Hapa.) I went with my friend Emily and immediately ordered miso soup, a longtime favorite of mine that became another attempt at warding off the illness that had taken up shop deep inside my frail frame.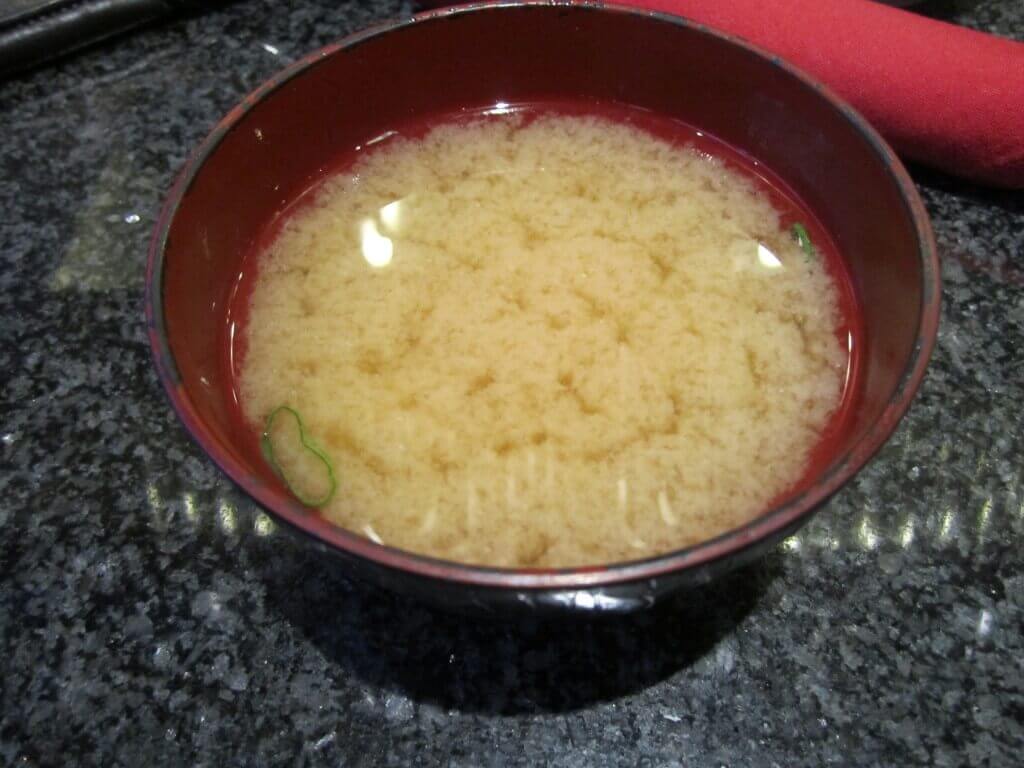 Miso Soup
The bowl of goodness delighted my insides, which I attribute mostly to the sushi protocol that governs soup be sipped rather than spooned. I'd like to see the practice break into other food genres because not only is drinking soup efficient, it feels cozier than scooping it: your hands warm up, the steam grazes your cheeks, and your sinuses instantly clear. There's also potential for spilling an entire bowl of broth down your lap instead of a mere spoonful—perfect for thrill seekers.
I quieted my inner fish fiend that devours sea creatures in their freshest form, instead ordering rolls that my delicate stomach could tolerate. First came the ume plum, shiso, and cucumber roll.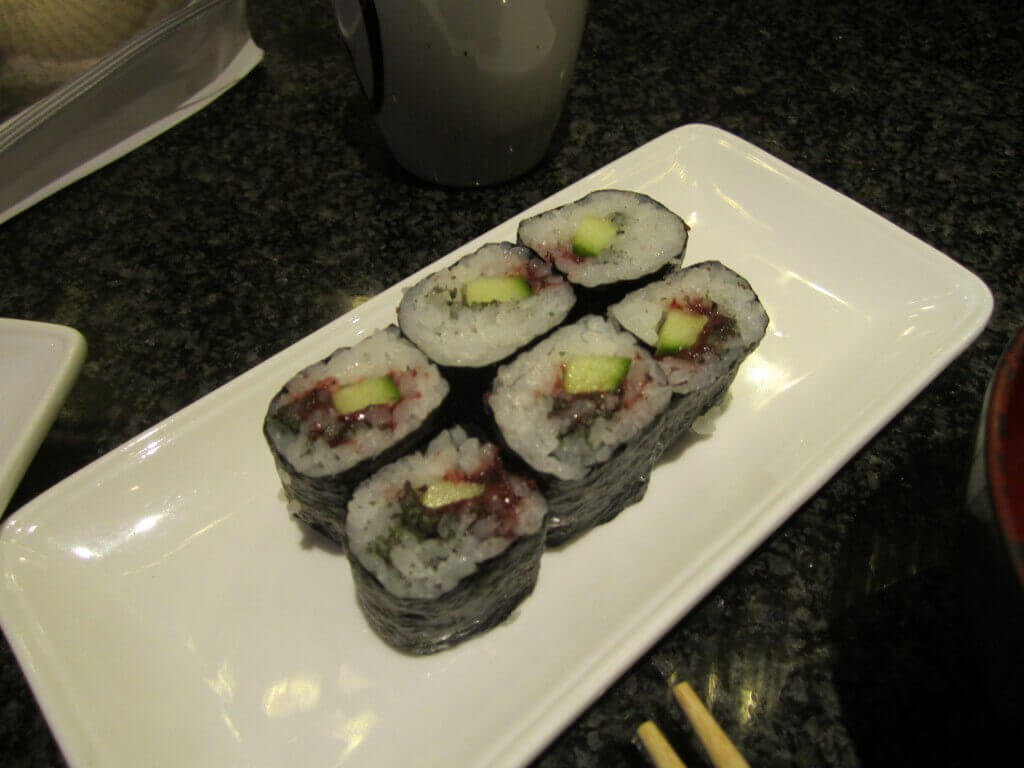 Ume, Shiso and Cucumber Roll
Pickled umeboshi plums reportedly have remarkable medicinal qualities, from alkalizing the body's pH to eliminating toxins to acting as a hangover cure (You can read about them here.)
Their potential to fix me rendered them especially attractive this evening, but I also enjoy them during times of good health. Emily, an umeboshi newbie, described the taste as "weird…. so weird." Since it's essentially an extremely salty plum, I deem her account accurate. Shiso, an herb related to mint that is rarely used in American cooking, nicely complemented the zing of the shriveled fruit.
These beauties rounded out our dinner: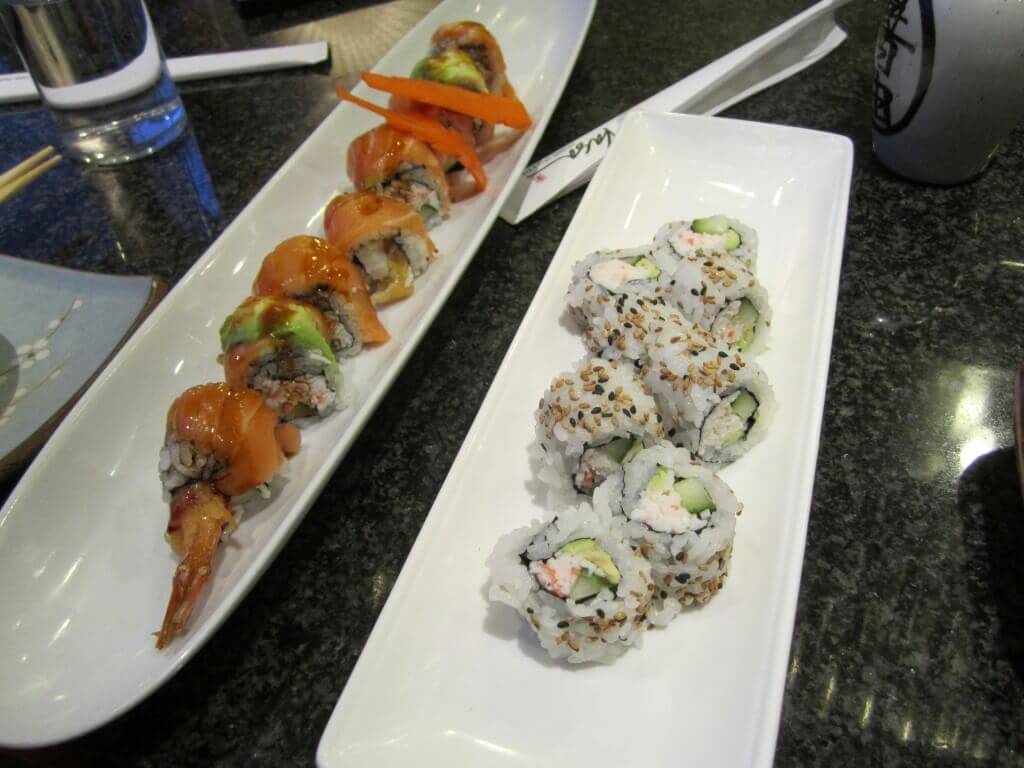 #9 Roll; California Roll
Emily's #9, a boring name for an elaborate roll, contained shrimp tempura, crab, and cucumber and was topped with salmon and avocado. Lots of fish = lots of fun. The rice binding my failsafe California roll encased the classic crab, avocado, and cucumber trio we all know and love. Both tasted fresh and delicious.
No one I know has ever mentioned Kasa while rattling off sushi options in Boulder, but I don't see why its fresh menu and nice atmosphere shouldn't place it in the regular rotation.
An eager staff rounded out our visit and virtually every employee gave us a goodbye and a thank you as we left. Since I somehow managed to keep my snot off their umbrellas, the source of the sendoff could have been courtesy or it could have been relief.