by Lowell Bleiweiss on May 9, 2011
1001 Pearl St.



When I wrote my review of Agave Bistro last week, I started off by saying that it wasn't your ordinary, run-of-the-mill Mexican place. Well, tonight I went to Pasta Jay's on Pearl and 10th. It was just like every other stereotypical Southern Italian joint out there with red-checkered tablecloths and way too much tomato sauce on hand, except for a couple things — The wait staff and the wild customer opinions.
Living in Boulder for two years now, I've heard some things about Pasta Jay's and the two things that everyone seems to mention are that the employees are gorgeous and that the food is overenthusiastically GREAT. Folks, I can confirm that the wait staff is gorgeous. Fortunately for me, all we saw working tonight were beautiful women, but I hear the guys are good looking as well.
The food on the other hand was just average to good. I'm not entirely sure how the people I've talked to have loved it so much, but I can certainly say that I've gotten food of that caliber at almost every middle-of-the-road Southern Italian eatery I've ever been to.
After a late frozen yogurt departure (review coming later!), I decided against an appetizer. I'm not sure I would have ordered one even if I was hungry though. The appetizer menu was a salad menu finished with various items wrapped in pancetta (a salt-cured ham similar to an unsmoked bacon) and a calamari dish.
For my entree I went with the "a la Genovese" ($12+4=$16) which is fresh mushrooms and artichoke hearts sautéed in a fresh tomato and sweet basil sauce. I added shrimp for an extra $4.  Sounds good right? I thought so. I got it with the pasta of the day, a short braided pasta, so I could avoid getting any on my shirt — I have places to be tonight.
When it came out, it looked great, smelled good, and tasted ok. That's not the direction I'd like a dish to go. Everything was washed out by the "fresh tomato and sweet basil" sauce. It was a jar (or two) of marinara with basil. Now, I know that Southern Italian food is on the heavier side, but a read through that description and confirmation from our waitress made me think I was getting something lighter.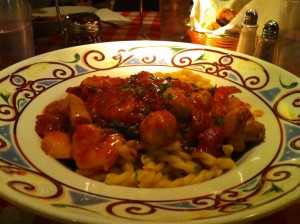 Okay, enough with the failed expectations. The service was great. Even with her misinforming me about the a la Genovese, we never had an empty water carafe, despite our thirsty attempts, and our beautiful waitress always had a smile on her face, even when we asked her to charge the meal wayyy too many ways. Who knows, maybe I'm just a sucker for blondes.
Do people like Pasta Jay's? Obviously. Will you? Maybe, if you regard yourself as something of a foodie, probably not. Will you find a date among the wait staff? How big is your.. tip? (KIDDING!)