by Andrew Woodman on April 10, 2011
2014 10th Street
Boulder, Colorado 80302
Sushi Tora's website



Their claim is "Boulder's Best Sushi."  Such puffery should fool no one, as Zanmai is clearly the best.  While I enjoyed most of my meal at Tora, I can still think of at least one thing that was wrong with every plate that came to our table.  A list seems appropriate:
edamame:
These soy bean pods usually come out hot or chilled after being boiled in salted water, plated, and then salted again.  Thankfully, Sushi Tora's edamame came out hot, but they weren't only overcooked, they lacked any salt except a small useless clump on top.  Talk about mushy blandness, this is the poster child: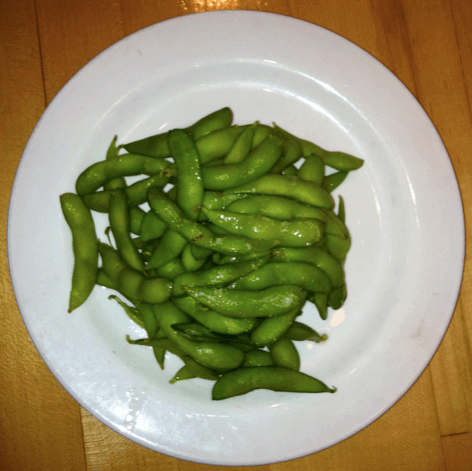 agedashi tofu:
Agedashi tofu is easily the best kind of tofu: fried.  It sits in a bath of traditional Japanese ingredients that make up a delicious soupy base, which you then eat together with  one of those big Asian-style soup spoons.  Sushi Tora did this pretty well, but although the tofu was cooked pretty perfectly, the fried batter was not.  I expected a crunch before getting to the healthy part, but instead sometimes it was more of just a slimy layer…  This was a pretty unappetizing characteristic for this appetizer.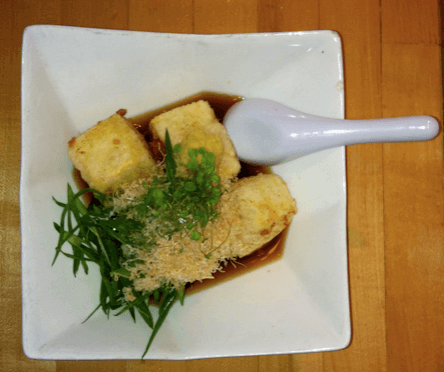 nigiri plate #1—tamago, salmon, tuna and yellow tail:
Tamago is a sweet eggy cake "omelet." Although it sounds weird, it's actually one of my favorite things to order at a sushi restaurant.  Sushi Tora offers extremely large pieces of tamago, and that generosity made me happy; however, the tiny piece of seaweed holding it all together wasn't doing a very good job, and this preparation made it very awkward to eat.  It made me enter that mentality where I thought: "This place seems fancy so should I keep trying to use my chopsticks? Or should I try and use my hands?"  Hands it was.  Even though eating nigiri with your hands is technically "O.K." it still seems wrong.
The salmon and tuna were good, but the yellow tail is another story.  The yellow tail made me think twice about how this fish got all the way to Colorado, and was still "fresh."  It tasted actually fishy, a big no-no for sushi.  Shit ain't fresh! Not only that, one of my fishy yellow tail bites was interrupted by something hard in the (what was supposed to be) tender flesh.  That made me skeptical of the sushi chef's ability…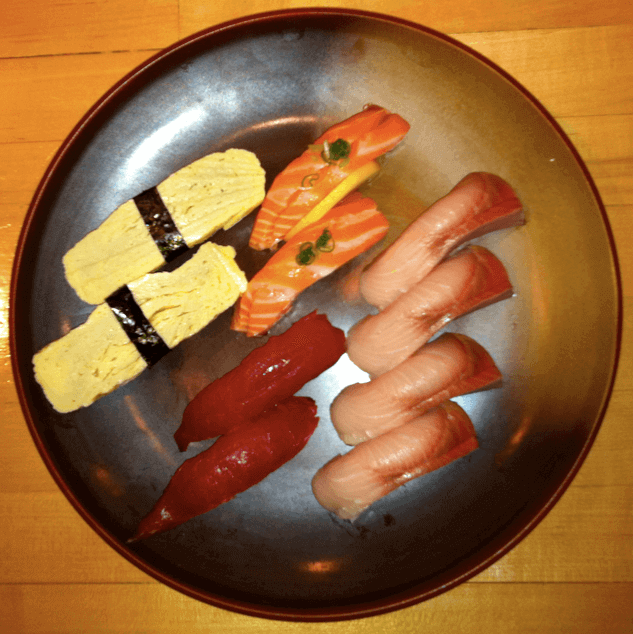 caterpillar roll:
This is a freshwater eel + cucumber roll with avocado wrapped around it and a sweetened, reduced soy sauce drizzled on top.  The seaweed beneath the avocado didn't wrap around the entire roll, which again made it a task to get the piece of roll to your mouth before it fell apart.  With the tamago practice, I was more adapted and successful this time.  The presentation was impeccably cute, which made it even more delicious to eat (notice octopus sucker eyes):
nigiri plate #2—unagi:
Unagi is easily my favorite sushi to order, and the pieces Sushi Tora served to us on this plate were just really confusing.  The freshwater eel on top was extremely hot, while the rice on bottom was extremely cold.  This polarized temperature was not the only weird and unacceptable thing that this dish featured, but the edges of the unagi pieces were extremely sharp, and were a near danger to the inside of my mouth.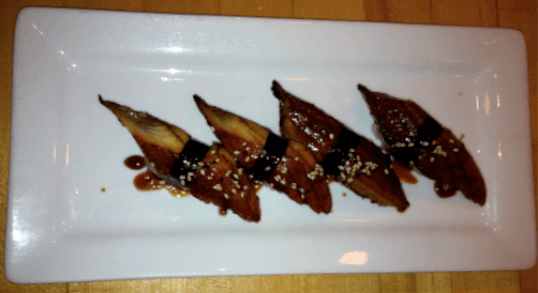 smoked salmon or something (?):
A sushi chef at the bar was very nice and gave us a free salmon dish.  I guess he saw me taking a lot of pictures or something, maybe? Not only was this thing full of tiny fish bones that made it difficult to eat, but the taste of it was actually nauseating.  I'm not sure if it was overcooked, too smokey, or what… but all I know is that it made me feel awkward to receive a complimentary dish that actually made me want to barf.  I tried to avoid eye contact with the chef who handed it to me so he didn't have to wonder why I wasn't eating it.  My cousin Bree was significantly braver than me, taking several bites of the weird salmon before she decided that it nauseated her, too.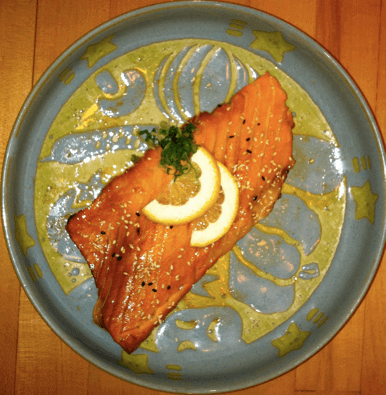 ___________________________________
The idea of a fancy sushi restaurant is clearly there, but the execution of the actual sushi (and other food) is definitely not.  I'd much rather be at the less fancy Sushi Zanmai, who actually know what they are doing with their food.
/-_-\