by dan on February 13, 2011





Thursday night I decided to try something new; take a girl on a date. Most people wouldn't recommend sushi for a first date because how do you even eat a spider roll with out it falling apart on you and your date? But, my love for sushi is just too great to live by that rule. I also am properly trained in the chopstick field, which I thought would give me bonus points with my date. I was wrong. When we walked in, the waitresses simultaneously greeted us in Japanese in a very inviting manner. Other than the restaurant being way too bright for dinner, the atmosphere seemed right.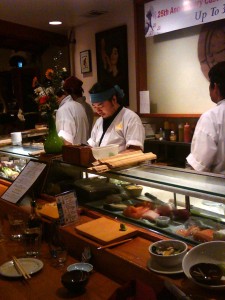 We sat at the sushi bar because that's where you sit when you go to a sushi restaurant ☺. The waitress took a long time to bring us water and take our drink orders but that gave us time to catch up. We started off with some hot sake and gyoza (pot stickers)…the only problem was they forgot our gyoza. So our server had an off night, I'm giving her the benefit of the doubt.
The sushi chef had an on night and it was the best sushi I've had in Boulder! The fish was so fresh and watching the sushi being made at the bar only made it that much better. The spicy tuna roll and the eel roll were our two favorite rolls; we even got two orders of them. There is nothing better than dipping your sushi in the perfect combination of soy sauce and wasabi. My date couldn't appreciate that extra spice so I stole her wasabi and made it my own. Again, I can't emphasize how fresh the fish was; they must have just gotten a fresh batch of fish in within hours. I was in sushi heaven! When the gyoza finally arrived, that too was delicious. I guess it was worth the wait. Watching my date try and use chopsticks was a whole different story but that's not important right now.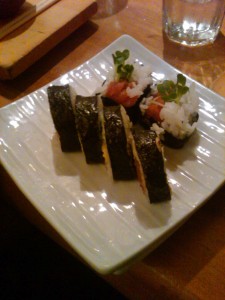 Fun fact of the day: In chopstick-using cultures, they measure your status based on how high you hold your chopsticks. The higher you hold them the cooler you are.
My date used her hands. Next time, I'll take her out for pizza.
Overall I'd give this restaurant 5 stars for their food, 3 stars for their service, and 6 stars for my date. You will completely forget your eating sushi in the middle of the country when you dine at Sushi Zanmai; Its that good.  My date made me forget about the mediocre service with her sassy personality which gives her a 6 (plus she might stumble across this). This was just my experience; I'm sure the service is usually better but like I said it was an off night. Take your friends or your mom to this restaurant, not a date. It didn't quite have that vibe like some of the other sushi restaurants in town especially because it was so bright. That's all for my first post, see you next Sunday!