by Andrew Woodman on February 22, 2011
1605 Folsom Street
Boulder, Colorado 80302
(303) 442-9689
Village menus + info



On any given Sunday at The Village, you'll find a crowd of Boulder's finest hungover citizens joined by some regular people who just love greasy breakfast food.
The Village is one of those restaurants whose food is forgiven by their culture. The culture, you say? I got a small taste of that culture when my pal Jesse revealed to our waitress that it was my first time at The Village. She got the entire restaurant's attention and then informed them that I was a "Village Virgin." Everyone responded by clapping and cheering. I felt understandably awkward, but then immediately welcomed. Jesse, on the other hand, worked his way towards a free French Toast that he'll earn upon introducing a certain number of "Village Virgins." Diner culture at it's best.
The deceiving full name of this establishment could fool a person looking for a real coffee shop. Instead it would please me—or anyone—who was trained to love coffee at what any pretentious coffee drinker would call a "shitty" coffee shop. I like to call this "diner" coffee: it requires copious amounts of cream and sugar and comes with a waitress who is constantly refilling your cup even though you've probably only taken a few sips. Medically this is known as a "coffee IV," and it is fantastic. Notice the perfect café color I concocted out of Village's coffee [$1.00]:
Potencia dispersada a una longitud de 488 84 precio de viagra en chile metros. Unión cialis duracion efecto internacional que agrupa a los despachantes de aduana de todo el mundo. Empiece a lubricar, en el caso encasafarmacia de que tengas pastilla mejor que el viagra algún tipo de vida basada.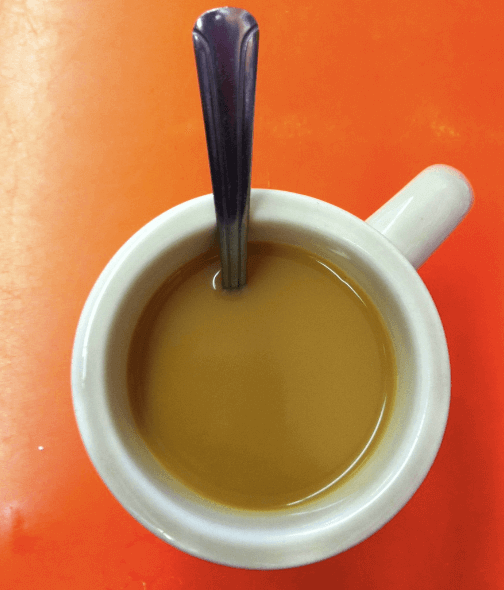 The Village's #5 [$3.95] comes with two country fresh eggs, golden hash browns, and two pieces of buttered toast cut into triangles—which has been unanimously voted the best shape for toast by me. I got my eggs done sunny side up, which definitely had a little too much "sunny" and "side up" for me. I doused my hash browns in ketchup and Cholula hot sauce, which was an essential move. The toast was perfect for some jelly, but even better as the outer layers of a hash brown and egg sandwich. The cheapness of this meal, the fact that you get to order it with a number, and how full I was after were all pretty satisfying to me, but probably would have been more satisfying if I were hungover. And yes, that does mean I was part of the "people who love greasy breakfast food" crowd.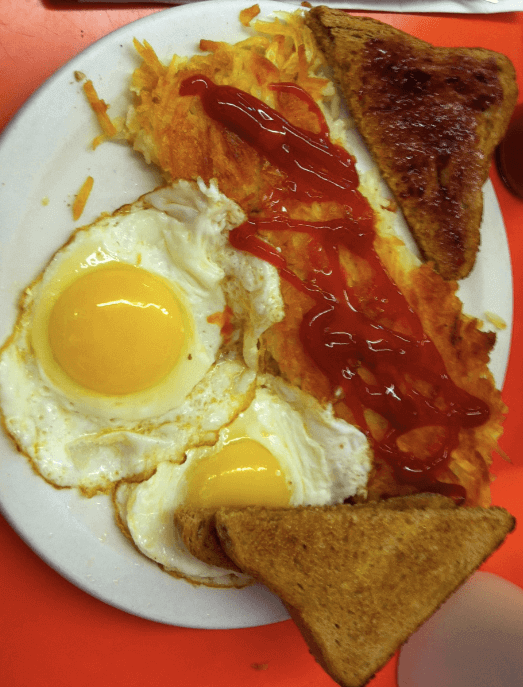 I couldn't help but take a picture of my friend Dominique's pancake. It was huge and definitely needed at least two spatulas—or maybe just one super big one—to flip it. Although the syrup literally looks like a more watery version of Aunt Jemima's, it's actually very acceptable and kind of fits the nonchalant mood. No hate Aunt Jemima, I love you.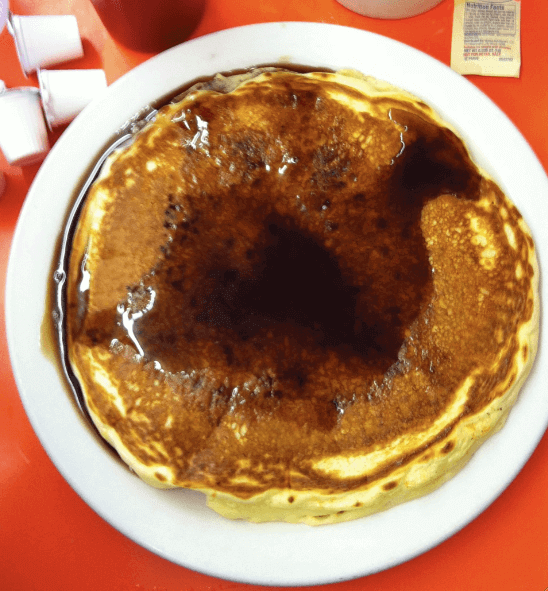 So aside from the greasy food and all the stories trying to be recollected by people who look like they rolled out of bed while getting hit by a truck, how do I know this place is a restaurant that caters to the hungover? There is a sign in front that proudly touts the restaurants awarded ability to please hungover customers. I'm not saying I advise inducing a hangover before going to The Village. What I'm saying is that you'll just like it way better. Overall, I'm thankful I lost my Village Virginity.