by Jessica on March 11, 2012
So much to do, so little time! For the busy foodie, it might be time to multitask with a few spots in one evening. Of course, adventurers may create any combination of Boulder's finest hotspots, my arrangement wasn't half bad.
Stop #1: Bacaro 921 Pearl St./ Menu 



Bacaro's variety of small plates and large cocktails was an easy pick for our first stop on the crawl. Immediately upon grabbing a stool at the bar, my partner-in-crime and I ordered up two ice cold glasses of red sangria and a little aperitif of mixed olives. Sangria is one drink that I can never resist and although Bacaro's wasn't the best I've ever had (a little on the weaker side), it is hard to pour a disappointing glass of fruity wine. Plus, this cool cocktail was ice cold and the perfect pick to be enjoyed at the bar in one of Boulder's trendiest spots. If you can't make it by dinner time, stop by for a lively late night bar scene, best enjoyed during summer months on their rooftop patio.
Amongst Bacaro's large selection of tapas, pizzas, pastas, salads, etc., we boldly vowed to save our appetites by ordering two small tapas to share, the warm brie with toasted bread, and the grilled artichoke with a lemon garlic aioli. I can confidently say that Bacaro deserves props for its European-inspired carte and variety of menu items, complimented by a similarly tasteful atmosphere. Nevertheless, both dishes we sampled were good, but not great, served at a mere room temp, and not memorable.
Stop #2: Cuvee 946 Pearl St./Menu 



Craving something alternative to the typical Pearl St. hangouts, a glass of wine and assortment of cheese sounded strangely refreshing. Upon entering the cozy, dimly-lit room, the overly friendly hostess (and waitress) showed us to a cozy two-person table  just adjacent to the piano, which was just beginning to entice diners with some laid-back tunes.
Though, truthfully, I am easy to fool, Cuvee's wine list and knowledgeable server seemed to be top-notch. Check plus: a wine bar that delivers! Every restaurant serves wine, but what set aside Cuvee as a wine bar to me was wine pairings for every item on the menu and a paragraph describing each glass. To the amateur wine-taster, these Spark Notes came in very handy, and allowed us to enjoy two excellent glasses of wine!
Unfortunately,  it seemed to me that Cuvee's menu sacrificed consistent quality for creativity. With items ranging from a Smoked Salmon Pizza to Sticky Apricot Bites, lucky for us a little cheese was the only thing on our minds. However at a wine bar, I would have expected more options to customize the plate, or at least be sure to delivery a superior product. Yet to our dismay, the plate was average, at best, crowded with some dried fruit and nuts, slices of bread, a mild goat cheese, Spanish manchego, brie, and something French and smelly (after living in France for 6 months, smelly cheeses rarely phase me, but this was SMELLY).
If a glass of wine and some live piano is what's on your mind, look no further. But for the empty belly and curious eater, opt for another one of Pearl St.'s stellar selections.
Stop #3: The Bitter Bar 835 Walnut St./Menu 





Often in life, the best things come last: dessert, senior year, and the Bitter Bar. Tucked away off the bustle of the Pearl St. Mall, this gem could easily go unnoticed. But once you step foot inside, unnoticed is the last thing you will become in Boulder's newest trendy hot spot. No steezy students, hazy hippies or havoc-wreaking high schoolers in sight here. Instead, look out for designer jeans, dating youngsters, and the finest and most fabulous people watching in town. And after one of their powerful cocktails, I could have been easily convinced that this swanky social scene was in New York, Las Vegas, or Tokyo.
As a college student, I often pride myself in my ability to expertly select the ideal cocktail off any drink list. Yet after about five minutes of blankly staring at the menu (was it even English?!), the knowledgeable bartender quickly observed the panic on our faces and came to our rescue. The Bitter Bar swapped out Cosmopolitans and Mojitos for bourbon with spiced apple cider ice cubes and whiskey with cayenne-pepper infused maple syrup. So our new friend surveyed our preferences (we indicated vodka and tequila) and quickly poured, spritzed and garnished two delicious creations. Both were truly unlike any cocktail I had ever had before, and mysteriously were sinfully sweet while surprisingly strong. And I hate to say it, but each was well worth the ten+ bucks.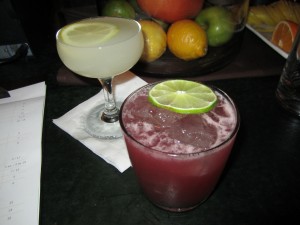 Because this was the last stop on our crawl, we didn't roll into the Bitter Bar until after 11pm, leaving us with just enough time to satisfy our sweet tooth. Among all the fancy menu items on the dessert page, there was something irresistible about the foodie spin on a childhood classic: S'mores. Forget the Hershey's and Jet Puffed, the Bitter Bar sandwiched a massive toasted vanilla bean marshmallow and plenty of organic milk chocolate between two cinnamon graham crackers. It was so good, I didn't care when the beautiful hipsters hovering over the bar were watching the crumbs tumbling out of my mouth as I attempted to tackle this finger food.
When S'mores season rolled around during my pre-teen summers, I always solicited a buddy to build my treat for me. The best part about the Bitter Bar? A perfectly toasted marshmallow, plenty of chocolate, all made my someone else, but enjoyed by me.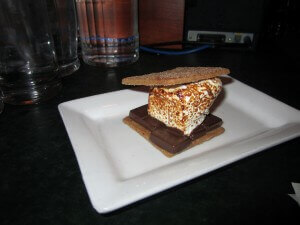 With dozens of options all within blocks of each other, a restaurant/bar crawl is the ideal alternative evening for any hungry or thirsty local, tourist, or student. From small plates at Bacaro, to cheese at Cuvee, to bliss at the Bitter Bar, this itinerary made for the perfect night on the town.