by Jessica on December 8, 2011
3161 Walnut St./Menu



With Mexican food, I have found that one trend always holds true: the more hole-in-the-wall, the better. So when I accidentally spotted Casa Alvarez in the corner of a shopping center, home to another restaurant I frequent, I figured the randomness must be a fateful success.
Unfortunately, I found the atmosphere of Casa Alvarez to be a little lacking, perhaps even strange. Though usually that does matter to me in the name of good food, something about this place was almost eerie. And in this case, the food wasn't good enough to make up for the atmosphere.
In true Mexican restaurant form, we were greeted with fresh chips and salsa immediately upon sitting down. Quite tasty, I must say, I just wish I had a margarita to quench my salty thirst! For some reason, I wasn't bold enough to order a cocktail during lunch.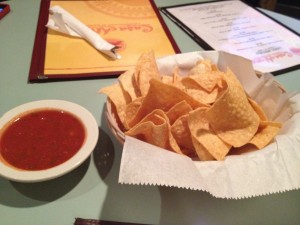 Soup isn't something I would typically immediately go for off of all the scrumptious options on a Mexican menu. But I do love a good vegetarian chili, and their menu was boasting several awards that featured Casa Alvarez as the best chili in town, so I thought I had to give it a shot. Though I wouldn't necessarily classify it as chili, it was definitely delicious. It was more like a vegetable soup with Mexican spices. It did have a ton of flavor and the perfect amount of heat (for me), but for a chili, I was expecting something a little more hearty. Nevertheless, it was the perfect compliment to my single enchilada for my lunchtime appetite.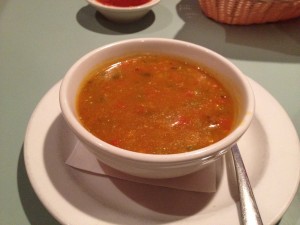 One thing that I loved from Casa Alvarez's menu was their ability to personalize any item on the menu or order anything individually, as opposed to in a huge meal. For lunch, one enchilada sounded perfect. After tripping over their endless menu, our served suggested the fajita enchilada, a cheese and chicken (or pork or beef) enchilada topped with lettuce, tomato, onion, cilantro, avocado and chipotle sauce.
When the plate arrived, I could not wait to dig in. With a heaping mountain of fresh veggies, sauce and best of all, avocado, I doubted whether the enchilada actually existed. But after one bite, I learned that my doubt was nearly true. The enchilada was so tiny, no wonder they covered it in piles of condiments. I'd love to give credit where credit is due, but my 3 bites of enchilada was dry and salty, rather than juicy and oozing with cheese as I was expecting. If it weren't lunch, I might have left hungry.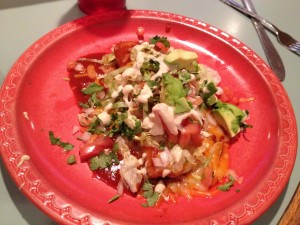 I have trouble recommending Casa Alvarez with so many other knockout Mexican joints in this town (Efrain's), but I vow to return for dinner before I completely rule it out. But for the quality, price and atmosphere, unfortunately they don't have me dreaming to return.