by Lowell Bleiweiss on May 13, 2011
1401 Pearl St.
We've all been to a Cheesecake Factory at some time or another (and if you haven't  you really should.. consider yourself strongly urged), but I figured "Hey, I bet the one on Pearl has got something 'uniquely Boulder.'" It would make sense, right? Well, to my chagrin, there were no "uniquely Boulder" dishes. But really, how long can you stay mad at a place with such a huge menu, there's something for every pallet.
When you walk in it looks just like every other Cheesecake Factory out there. Golds and browns everywhere with a big bar right around the corner from the hostess counter.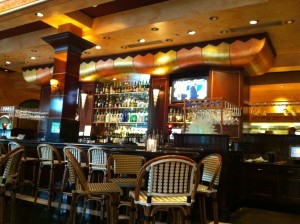 It had been a while since I had been to a Cheesecake Factory, but I had completely forgotten about the delicious Pumpernickel bread that they've been known to bring out. We asked for more, and our waitress kindly obliged.
The time finally came, and those words that I had come to dread, were spoken: "Have you decided what you want yet?" I couldn't decide, so I went with two appetizers — always the go to move in this situation.
Now, I know that since you've all been to The Cheesecake Factory you know the menu by heart, right? So I decided to take a departure from the mac n' cheeses and onion rings, in favor of Vietnamese Tacos and Ahi Tuna Tartare.
The Vietnamese Tacos were steamed Asian buns with roasted pork, marinated cucumbers, carrots and onion with chiles, cilantro and sesame seeds. All the flavors came together to make a wonderful tasting, hard-to-eat "taco." A great experience.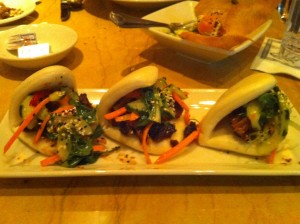 The Ahi Tartare on the other hand, was perhaps the only dish that I've ever had from here that wasn't spectacular. It was raw tuna served over avocado in a soy-ginger sesame sauce. Sorry about the picture, I was so anxious to try it, I went straight for the fork. The avocado was not ripe, and there was way too much of it in proportion to the tuna. The sauce was delicious though!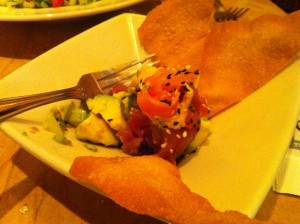 To counteract this negativity, I'll tell you about another fantastic appetizer called the Spicy Ahi Tempura Roll. It's fresh raw Ahi tuna with green onion, spicy soy sauce, ginger and garlic. Wrapped in Nori and flash fried tempura style. This one, I promise you, is a keeper.
Naturally, my goals in the gym kept me from indulging in the namesake cheesecake, but rest assured, my favorite is the Godiva one. Heaven.
Overall it was a great experience, our waitress was prompt and polite, and the Vietnamese Tacos were amazing. The tartare could be improved by some slight adjustments, for sure. Four Stars.