by Emily Kane on May 25, 2011
928 Pearl St.





I learned about Jax a few months ago but being in land-locked Colorado, I was a little skeptical about how fresh the seafood would be. I decided to give it a try. When we walked into Jax we were greeted by the friendly bartender and led to our snug table in between two other couples. When I opened the menu my jaw dropped: they had a lobster BLT. I looked no further. I began my dinner with the Jax Caesar Salad. While Caesar dressing can often be too creamy, and sometimes overwhelming with the taste of anchovies, this dressing was refreshingly light and full of flavor.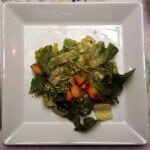 When the lobster BLT arrived I was awestruck. Seriously. Sometimes lobster is prepared with obscene amounts of mayo with just tiny bits of actual meat hidden here and there. Luckily that was not the case with this sandwich. Piled high with meaty pieces of lobster on top of crunchy bacon and fresh tomato I was in heaven. The bread was also fantastic, toasted and buttered. It was a classy rendition of the traditional lobster roll bun.  To add to this awesome meal the BLT was accompanied with a pile of homemade French fries and really yummy, lemony coleslaw.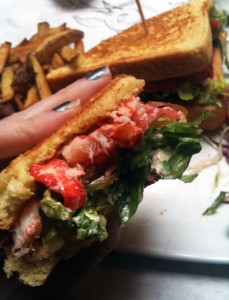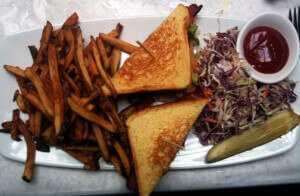 My roommate ordered the rock shrimp cavatappi. Served with pesto sauce and house-made ricotta cheese this was really nice and not too heavy. The fresh ricotta cheese juxtaposed the rich flavors of the shrimp and pesto creating a very dynamic dish.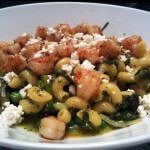 We couldn't let such a great meal end there so we ordered the molten chocolate cake for desert. It arrived with strawberries, raspberries, and a side of vanilla bean ice cream. The cake was wicked good, piping hot and exploding with rich chocolate!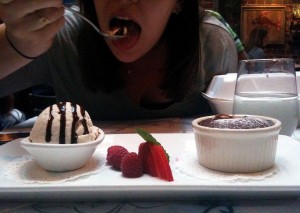 The atmosphere at Jax was very upbeat and although it was a generally an older crowd (probably due to the pricy menu), we didn't feel out of place. Colorado may not be on an ocean but Jax sure does a great job making you feel the briny breeze with their coastal atmosphere and outstanding food! For seafood lovers Jax is a must.