by Jessica on August 21, 2011
Despite The Rio's prominent location on Walnut alongside popular bars and pedestrian passageways, the rooftop disguises the space as a tropical escape as opposed to an urban hotspot. Diners are cooled with mist from the moment they step foot on the patio and cacti create an ambiance similar to a Southwestern landscape.
Due to the long wait for an outdoor seat on a Tuesday night (who would've thunk?), we opted to sit at one of their community style picnic tables. Skeptical of what this might mean and why the originally proposed hour wait magically disappeared, we readily accepted the offer. Though I was dining with two friends, this is a great option for solo diners, quick drinks and appetizers, or anyone looking for a more than average dining experience.
Immediately upon being seated we ordered The Rio's standard margarita: rocks no salt. I had high hopes after hearing all the hype, and the first sip instantly confirmed everything I had heard: strong, delicious, and absolutely worth the $6.50. The three drink minimum confirms my first point, drinkers beware.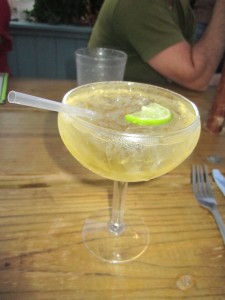 We started with the Queso containing melted cheese and a fresh pico de gallo, served with chips. I honestly have never been a fan of queso because I honestly cannot tell the difference between melted cheese and gourmet queso, but I humored my friends and agreed to sample the dip. To me, The Rio's queso tasted like a standard melted cheese dip with a little heat, yet it is exactly what I was craving after downing a margarita.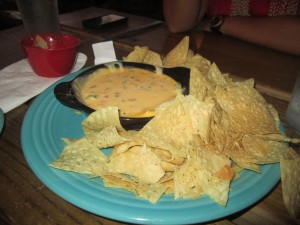 I also sampled my friend's Tortilla Soup. Hotter than I imagined, the water-based soup was layered with tortilla strips and scattered with flavor. Next time, order it with chicken.
For my main course, I opted for the Tequila Shrimp Tacos by the suggestion of our waitress. The tacos (two) were served open faced with some slaw and a drizzle of sauce, which I perceived to be some type of aioli, alongside steamed veggies and Spanish rice. The presentation had absolute potential, but the tacos looked bare with the few baby shrimp and skimpy on the slaw and sauce. It is easy to fluff up a dish like this with fillers such as copious amounts of shredded veggies, salsa, beans etc. Since they were served open faced, the dish may easily arouse excitement from any foodie when the dish arrives in front of you because they look huge. Yet when you roll them up ready-to-eat, each taco consists of about three or four bites. Good, not great; next time I would try the Blackened Mahi option.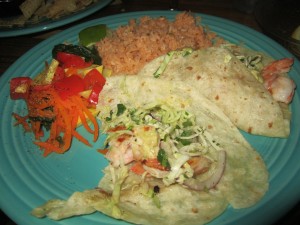 The Rio is the ideal spot for a late afternoon cocktail and appetizer. The rooftop patio is incomparable to any other Boulder eatery and the margaritas are top notch, though I cannot say the same about the rest of the options on their menu. The menu went past a standard mexican restaurant, with options such as Chile Rellenos and Flautas de Pollo, but I was not impressed with their originality, quality or service.