by Emily Kane on June 9, 2011
1805 29th Street





During my job hunt this summer, I came across a help-wanted ad for Spooners, a new froyo joint that first began in Fort Collins and was opening a store in Boulder. Self-serve frozen yogurt seems to be the hottest trend in the Boulder area at the moment and I was excited to see how Spooners stacked up. Frozen yogurt, reminiscent of soft-serve ice cream, is a low-fat sweetened yogurt packed with probiotic cultures and high in protein and calcium – a desert you don't have to feel guilty about! Located in the 29th St. Mall next to Mad Greens, I was pleasantly surprised by the size and décor of the store. There is plenty of outdoor patio space with a beautiful view of the flatirons. There are also several couches and a TV! I was starting to really like this place.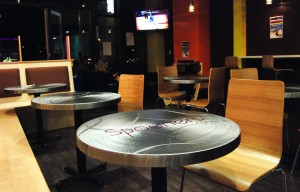 In addition to the basic flavor options at Spooners, their clever mixing method made it a really fun sampling experience. At each station there were two basic flavors (for example marshmallow and peanut butter). In the middle, the lever that mixes the flavors is also labeled. In my case it was "fluffernutter" (I hope this flavor brings a nostalgic smile to everyone who grew up eating fluffernutters!).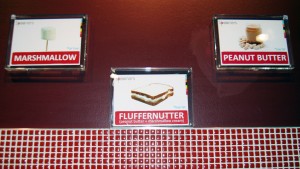 Spooners offers a variety of dry toppings as well as plenty of fruit, cookie bites, and sauces. I topped my tart yogurt with chocolate chips, coconut, watermelon, and raspberries. My friend, who joined me on this adventure, opted for sprinkles and condensed milk to top off her yogurt.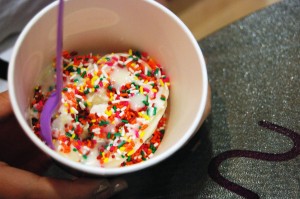 I truly loved all of the flavors I sampled (especially the fluffernutter and cake batter) and thoroughly enjoyed my own concoction. At 45¢ an ounce, I savored every mouthful while relaxing in the beautiful décor and cozy interior. Spooners is a perfect place for a date-night or a quick treat with friends and with late hours, Spooners is sure to be a hit for those late night froyo cravings. While I didn't end up applying, I'll take it as a blessing as I'm sure I would've spent the majority of my paycheck there! Be sure to check it out this Saturday, June 11th for their Grand-Opening – and 50% off!